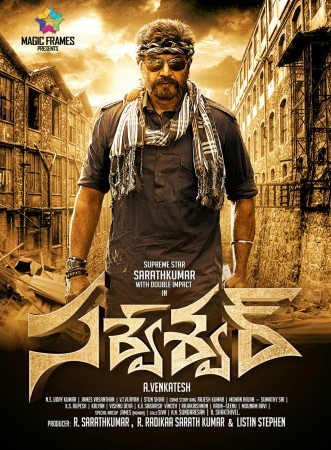 Tamil movie "Sandamarutham" starring Sarath Kumar has opened to below average reviews from critics. The movie directed A Venkatesh has been reviewed as a typical masala thriller, which has nothing new in it.
Most of the critics say the film lacked the element of novelty but one can look forward to the movie if you are solely a Sarath Kumar fan.
In the movie, Sarath Kumar plays a double role of an undercover cop (Surya) and a criminal (Sarveshwaran). Sarveshwaran is very lethal and powerful that neither the police nor the government has a chance of catching him. The movie then talks about the tug of war between these two characters with lot of action sequences.
Sarath Kumar's performance as an action hero is seen as one of the biggest positives of the movie. Music by Vasanthan and Uthaya Kumar's cinematography have been viewed as decent.
Here are the reviews of "Sandamarutham" by various critics:
Sarathkumar as the protagonist Surya is just fine though and, impressively, you don't mind at all that an actor his age is shown romancing a character played by a Meera Nandan more than thirty years younger. It's not Sarathkumar's looks and physique; the problem is the uninspired writing. When he's taking out criminals, you don't feel the thrill. When he's romancing, you don't feel the love. When he's within the loving confines of his family, you don't feel the warmth. At all times, you're aware that it's all staged and enacted.
'Sandamarutham' would have worked better as a lean and mean action thriller but the director,A Venkatesh, also doesn't want to lose out on the "family audience", and so we get prolonged scenes involving Surya's family. He also uses Surya's family to emotionally manipulate us — at one stage, Sarveswaran, who holds the cop's family members hostage, lays out all their mobile phones on a table and starts shooting the persons whose phones Surya calls. We are supposed to care and shed a tear but given that these characters aren't made endearing, we hardly bother.
Director A Venkatesh has packaged Sandamarutham as a mass masala entertainer with enough dosage of comedy, glamour and action sequences but the film progresses in a decade old action film template which might satisfy masses while there are few brainy moments where the involvement of novel writer Rajesh Kumar is evident. Technically, music by James Vasanthan passes muster while cinematography by NS Udhayakumar is strictly average.
Sarathkumar who made his debut as macho-villain in Vijaykanth starrer Pulan Visaranai in 1989 is again back with a bang as villain after 25 years. After 25 years, one got a chance to watch the real villain onscreen. As ruthless don and as undercover cop, Sarathkumar excelled himself in both the roles with terrific performances supported by equally powerful dialogues. Meera Nandan plays girl-next-door, while Oviya plays a hot glam doll. Samuthira Kani has a pivotal role.