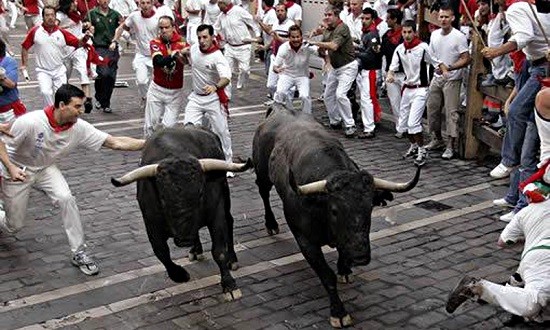 The Pamplona Bull runner, who slowed down to take a selfie during the bull festival race is now a wanted man, as the police have put up a lookout notice for him for indulging in a dangerous act during the fiesta.
Police in Pamplona are said to be searching for the bull runner, who sparked a widespread debate on local newspapers and online forums. The young man took the selfie inches away from the charging bulls that weigh more than half a tonne each.
The young man reportedly took the selfie during the final stretches of the fifth bull run of the San Fermín festival on Friday. The man was captured on camera by several Spanish media and now faces a fine of at least $4,100 for his dangerous act, the Guardian reported.
Earlier this year, the local authorities had passed a regulation to crack down on dangerous behavior during the festival, including use of any phones and camera during the race.
According to The Local, till now the town authorities have fined two people for violating the safety rules. Both the violators happen to be British citizens.
One man was fined $344 for crossing a security line during the festival, while another had to pay up $1113 for attempting to record the race using a drone.
After the 11 July San Fermin selfie incident, hashtag #eltontolmóvil, which means the idiot with the mobile, has been a trending topic on twitter, as many criticized his action that could have jeopardized other participants' lives.
Pamplona police seek man for "taking selfie" during bull run http://t.co/Eg8S6MpkcD #eltontolmóvil pic.twitter.com/y50Fbe3Lih

— Guardian World (@guardianworld) July 13, 2014
In the San Farmin fiesta, till now 15 people have been killed by the bulls during the dangerous race. Earlier on Monday, it is reported that a bull broke away and gored two participants in the closing run of the festival.
While many have been gored by bulls in the last eight days of the festival, Monday's incident is said to be the most brutal as the bull ripped through the legs of the participants.