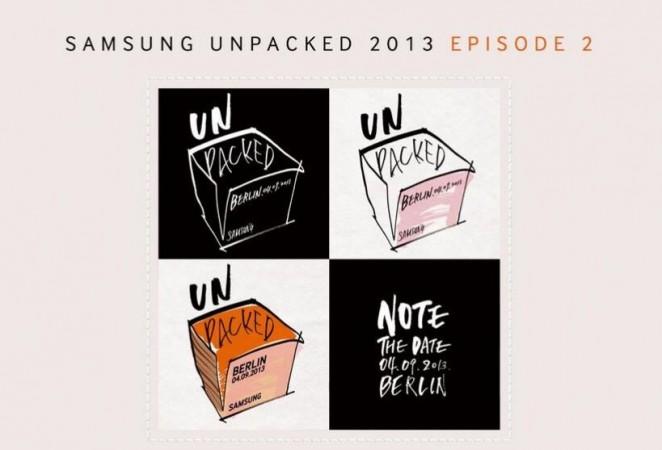 The much-anticipated Samsung phablet Galaxy Note 3 and the South Korean company's first ever wearable Galaxy Gear smartwatch are all set to make their grand debut in Berlin on 4 September.
Samsung fans staying in other parts of the world need not feel disheartened to miss the unveiling program as the company will be streaming live coverage of the event online.
The Samsung unpacked event will kick off at Berlin, Germany on 4 September around 19:00 PM CEST/13:00 PM EDT/10:30 PM IST and will streamed live on Samsung YouTube channel(Click Here) and Samsung UK Site (Click Here). That's not all, New York citizens will have the privilege to watch the live program on the giant screen at the city's iconic land mark Times Square.
Watch 'Samsung Unpacked 2013 Episode 2' Event Live Here:
As a precursor to Samsung event, the company's UK arm has started a promo to invite Samsung fans to register themselves to their official facebook page to win new devices which are expected to get revealed in the unpacked event. People just have to fill a simple online form to enter the prize draw.[To enter the contest, Click Here]
[Update]
Samsung has finnally pulled the wraps-off the Galaxy Note 3 and Galaxy Gear Smartwatch. The two devices will be released in more than 140 countries world wide simultaneously on 25 September.[To know the specifications of both the devices, Click Here]
Highlight of the Samsung Unpacked 2013 Episode 2 Event:
The event is all but certain to witness the launch of third generation Galaxy Note as well as Galaxy Gear. Lucky invitees holding passes for Berlin event can expect the world smartphone leader to pull-off the same kind of theatrics we saw for Galaxy S4 at the New York event in March.
Samsung has already rolled out a teaser video showing green big-headed aliens working in the Samsung lab with the tagline - "Secret of Samsung Technology caught on tape", hinting that the new devices are certain to come loaded with new innovative features. [To view the video, Click Here]
Samsung Tomorrow video:
Samsung Galaxy Note 3 expected features:
After sorting numerous reports from across the globe, we expect the third generation Samsung phablet to sport a 5.68-inch Super AMOLED full HD display with thin bezel and run on latest Android v4.3 Jelly Bean OS with 3GB RAM (or 2.5GB).
The new phablet is rumoured to house a high-end 13.0-megapixel camera on the rear side with the S Orb camera feature which will enable the user to click 360 degrees panorama image in a single shot. Just a few days ago, rumours surfaced online that the camera would also record 4K resolution Ultra HD (3840x2160p) videos, more than twice the current full HD (1920x1080p) resolution standard. Many believe that this rumour is a little far-fetched and we expect our readers to take this speculated feature with a pinch of salt.
Word on the street is that Samsung would sell Galaxy Note 3 in two variants - 4G-LTE model which will be powered by 2.3GHz Qualcomm Snapdragon 800 series processor with Adreno 330 GPU in developed markets (North America and Europe), where advanced 4G network are already available, and a 3G compatible model housing Samsung's very own Exynos 5420 Octa-core processor (with ARM Mali-T628 MP6 graphics engine) that would be released in developing markets of South East Asia (including India), Middle-East, South America and African markets.
[Update]
New unconfirmed report has surfaced online that Samsung Galaxy Note 3 will also boast-off finger print scanner, since this is still a specualtion, we advice our readers not jump the gun just yet. Few hours from now,Samsung will end all the suspense surrounding this new generation phablet. If the rumours do come true, Samsung sure to over shadow its arch rival Apple which is set unveil new iPhone 5S on 19 september, which is also expected to feature finger print reader on its home button.
Samsung Galaxy Gear:
The second attraction of the Samsung event will be the smartwatch Galaxy Gear. It is pegged to sport a 2.5-inch OLED display with 320x320p resolution and pack Samsung's in-house built 1.5GHz Exynos 4212 dual-core processor with Mali-400 MP4 graphics engine.
The smartwatch will reportedly run on the customised Android v4.3 Jelly Bean OS with keyboard and browser applications being turned-off. Other specification includes 1GB RAM, 4.0-megapixel camera and 24 hours battery back with moderate use, but the battery life is said drain quickly if used extensively. Rumuors are rife that Samsung would sell the smartwatch with two storage variants - 6GB and 8GB,
Samsung Galaxy Note 3 Release Date:
Samsung Galaxy Note 3 is said to go on pre-orders in select global markets and is expected hit retail brick-and-mortar stores by 27 of this month with price tag of £550 (approximately ₹58,200 in terms of Indian denominations)
Samsung Galaxy Gear Release date:
Samsung's smartwatch shipments are expected to begin in late September and reach major markets by the second week of October.
Rumoured features of Samsung Galaxy Note 3:
| | |
| --- | --- |
| Model | Samsung Galaxy Note 3 |
| Display | 5.7-inch (5.68-inch) Super AMOLED Full HD Display |
| OS | Android v4.3 Jelly Bean OS , (reports suggest some Galaxy Note 3 variants will run on Android v4.2.2 OS) |
| Interface | Touch Wiz Nature UX v2.0 |
| Processor | 2.3GHz Qualcomm Snapdragon 800 quad-core processor and other variant might pack Samsung's in-house built Exynos 5420 Octa-core processor(in India) |
| RAM | 3GB (or 2.5GB) |
| Storage capacity | 32GB |
| Camera | 13.0-megapixel main camera with Xenon flash support(international variant), S Orb camera feature which will enable the user to click 360 degrees panorama image in a single shot, and also support ultra HD 4K video recording,finger print scanner |
| Add-ons | S Pen functionality and LTE-Advanced network connectivity to support twice the data transfer rate than the current 4G network |
| Price | Expected to be around £550 (approximately ₹58,200 in terms of Indian denominations) |
Rumoured specifications of Samsung Galaxy Gear:
Model

Samsung Galaxy Gear (SM-V700)

Display

2.5-inch (or 3.0-inch) OLED touch screen with 320x320p resolutions

OS

Customised Android v4.3 Jelly Bean OS (keyboard and browser applications will be turned off)

Processor

Samsung's Exynos 4212 dual-core processor with 1.5GHz CPU speed

GPU

Mali-400 MP4

RAM

1GB

Storage

6GB and 8GB memory variants

Camera

4.0-megapixel camera with 720p HD recording feature

Battery

Up to 24 hours under normal use,

Battery life may come down to 10 hours up on more active usage

Add-ons

Bluetooth v4.0 LE, NFC,