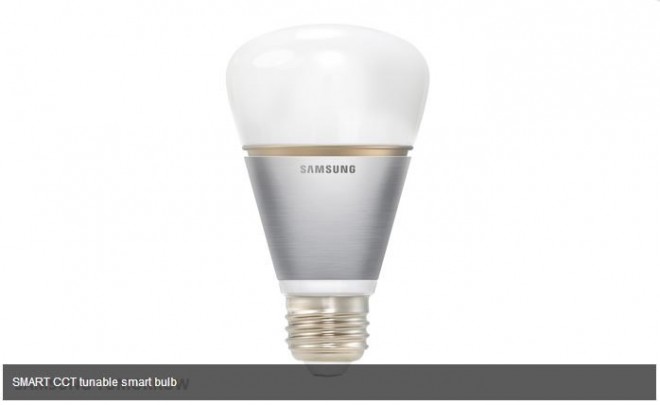 Consumer electronics giant Samsung has announced the launch of an LED Smart Bulb at the upcoming biannual architecture and technology trade fair Light+Building 2014.
"Based on our extensive experience with semiconductor and LED technology, as well as our knowledge of the appliances industry, we are in a unique position to deliver exciting smart solutions for the LED Lighting industry," said Hee-Chong Yoon, Vice President of LED Lamp Marketing at Samsung Electronics.
"Our ultimate goal is to connect the digital dots in our customer's lives and Samsung is well positioned to deliver LED solutions for the Smart Homes of the future," he added.
Key features of Samsung LED Smart Bulb:
The new-age Samsung Smart Bulb uses power-efficient Bluetooth technology instead of Wi-Fi connection, eliminating the need for a bridge and wireless AP (Application Protocol), and thereby enabling users to control the bulb directly from a smartphone or a tablet.
Users just need to download a simple application in their smart devices in order to establish connection between the bulb. (If used with ZigBee Bluetooth Hub, the control range can be expanded over wider areas like a big warehouse or a luxury mansion).
Once the application is installed, users can control 64 individual bulbs of a house/building, they can switch on/off, tune brightness (can dim down to 10 percent) and also control CCT (Correlated Color Temperature) from 2700K (arm white) to 6500K (cool white).
The new Samsung Smart Bulb is said to have a lifetime of 10 years (close to 15,000 hours of life expectancy under normal usage).
Besides the LED Smart Bulb, Samsung will also showcase the PAR (parabolic aluminized reflector) series lightweight bulb, having 90 CRI (Color Rendering Index), and L-Tube series tube lights.
The Light+Building 2014 event is scheduled to take place at Messe Frankfurt, Germany from 30 March to 2 April.