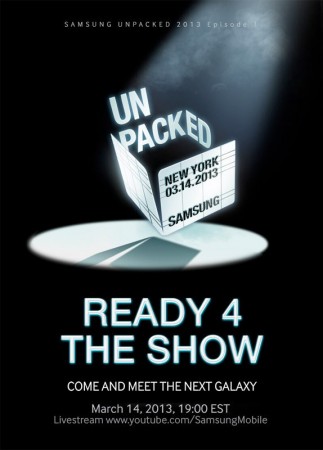 In less than 48 hours before Samsung unpacks the much-awaited Galaxy S4 on 14 March, the South Korean company has officially released a partial snapshot of its upcoming flagship smartphone.
Hours after Samsung released the part-2 of the Galaxy S4 teaser video ad, the company tweeted an image of the Galaxy S4 giving a glimpse of the upper half of smartphone with the Samsung logo on top. .
The part-2 Galaxy S4 video ad which was released yesterday also gave rise to speculations that the new smartphone may come in multiple colours.
In the ad, Samsung 'secret messenger' Jeremy Maxwell says 'It's my favourite colour' leading many to believe that Galaxy S4 will have more colour variants to show off, besides the marble white and pebble blue shades.
The very same day, a Chinese website leaked images of a big-screen Samsung smartphone with similar upper body as seen in Samsung's official teaser image.
The past few months have seen a rush of leaked specs and speculations of Galaxy S4 hitting the internet. But the rumours have reached a crescendo with less than two days to go for the big Galaxy S4 unpacking event.
A few days back, popular Samsung community website SamMobile revealed a few more spec details of the upcoming Galaxy S4. It was reported that Samsung's next generation smartphone will sport an AMOLED full HD screen made from green PHOLED (Phosphorescent Organic Light Emitting Diodes) material which uses green and yellow colours to make the smartphone screen use less power i.e. 25 percent more efficient in terms of battery life than previous generation models.
SamMobile also reported that Galaxy S4 is speculated a feature a 'floating touch technology' which uses finger movements as the cursor. Users aren't even required touch the screen but just use a fingertip to hover over an application icon like a photo album. By doing so, the intuitive smartphone will give a sneak peak of pictures in the album.
With the addition of the floating touch technology to other impressive features like Smart Scroll, Smart Pause, Smart Stay and Smart Rotation of Galaxy S4, many believe that the word 'smartphone' will be once again redefined with the release of Galaxy S4.
Earlier in the week, the same website reported that Galaxy S4 would feature Samsung's new TouchWiz interface Nature UX 2.0 with fully revamped menu options against a white background. The pictures also revealed that Galaxy S4 will come packed with an advanced eye enabled text browsing software called Smart Scroll.
The upcoming Galaxy S4 smartphone is also expected to sport a 13-megapixel 3D camera and a 1.8GHz quad-core processor with LTE along with wireless charging capability.
SamMobile stated that the US-bound Galaxy S4 is expected to pack a quad-core processor, whereas the international variant may feature an 8-core Exynos Octa CPU, as previously speculated.
Speculated Specifications of Samsung Galaxy S4 Include:
| | |
| --- | --- |
| Model | Samsung Galaxy S4-GT19500 |
| Display | 5.0-inch Green PHOLED Full HD screen |
| OS | Android v4.2.2 OS (updated Jelly Bean) |
| Processor | Samsung Exynos 5410 Octa-core processorwith 1.8GHz clock speed(US variant expected to feature quad-coreProcessor with 1.8GHz clock speed) |
| GPU | PowerVR SGX 544MP |
| RAM | 2GB RAM |
| Memory | Expected to ship in with 16GB,32GB &16GB models |
| Camera | Rear:13.0-megapixel 3D cameraFront: details unavailable |
| Dimensions | 140.1 x 71.8 x 7.7 mm |
| Weight | 138 g |
The South Korean company has confirmed that it will launch the Galaxy S4 smartphone at 'Radio City Music Hall', New York City. The event will be broadcasted live at the famous Times Square Junction on Thursday.
(With inputs from SamMobile)