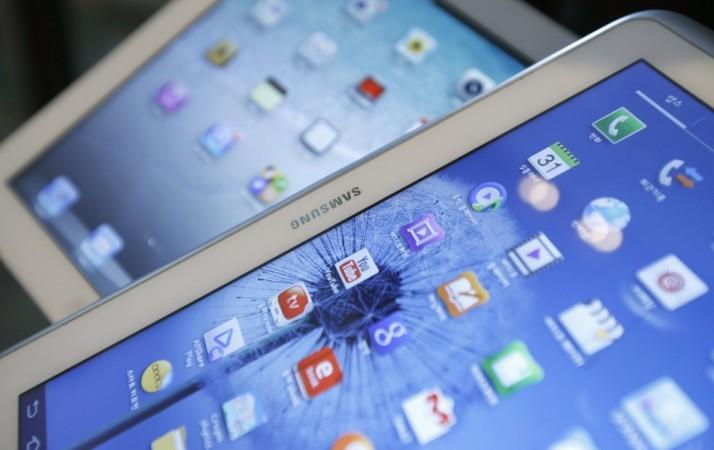 Samsung has a refreshed line of devices to be released next year. While the hype is around the Galaxy S6, there is a new 10-inch tablet that will embrace the Galaxy Tab series in 2015. Last week, Samsung SM-T555 was imported to India for R&D purposes, pointing towards the Galaxy Tab 5 release next year. Successor to the Galaxy Tab 4, the new tablet is expected to feature upgraded specs.
Samsung will be taking its battle into the tablet arena with the new 10-inch model even as the rivals are betting with monster screens. Apple, for instance, is set to launch its iPad Air Plus with 12.9-inch display and Sony is believed to be working on a 12-inch model. The move towards larger tablet screens is due to the demand for phablets, which make it hard to differentiate the tablet category distinctively.
News of Samsung's unannounced Galaxy Tab 5 comes from a reliable source, Zauba, which is an import and export tracking website for India. The product listing on Zauba showed that the SM-T555, which is the model number for Galaxy Tab 5, clearly states that the imported slate is not for retail sale. If the listing is true, the estimated price of the tablet will be around $350 (₹22,500).
While the product listing does not mention the Galaxy Tab 5 anywhere, the model number SM-T555 is a clear indicator. Different versions of the Galaxy Tab 4 10.1, released earlier in May, had the model number SM-T530 for Wi-Fi only, SM-T531 for Wi-Fi and 3G and SM-T535 for 4G and Wi-Fi. The successive model shown on the import tracking site refers to the Galaxy Tab 5.
Besides the screen size, the Galaxy Tab 5 is expected to feature 64-bit Snapdragon 410 processor and Android 5.0, according to Techtastic. Other details of the product are largely under the wraps.
Samsung not only imported the Galaxy Tab 5 for testing, as Zuaba showed another tablet SM-T116, which is widely linked to successor of the Galaxy Tab 3 Lite, the report added. The same device was appeared on Geekbench site, showing basic features such as a 1.2GHz quad-core Speadtrum SC8830 processor, 1GB RAM, 7-inch display and Android 4.4.4 KitKat. Zuaba listed the price at ₹6,449, but it is likely the final pricing will change upon launch.