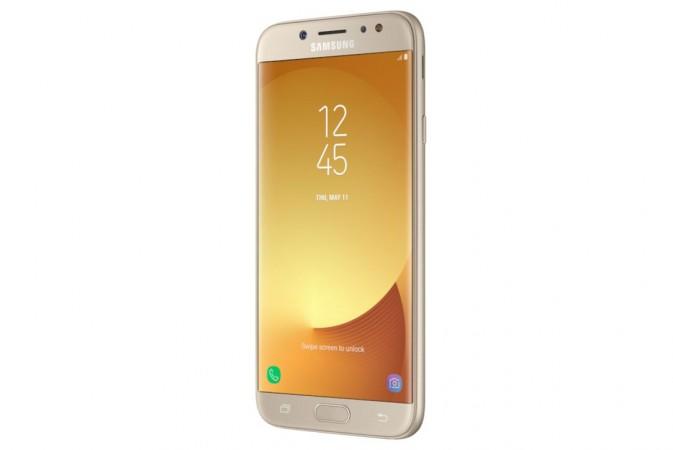 Samsung launched the company's popular mid-range 2017-series — Galaxy J7, J5 and J3 — in the Netherlands on Tuesday.
The new Galaxy J7 is the top-end phone among the lot.It comes with 5.5-inch full HD (1920x1080p) display, 1.6GHz octa-core processor, 3GB RAM, 16GB/32GB internal storage, 13MP primary camera with f/1.7 aperture, 13MP front snapper with f/1.9 aperture and a 3,600mAh battery.
On the other hand, the Galaxy J5 houses almost the same hardware, but differs in two aspects —the screen and battery. It sports a smaller 5.2-inch display with HD (1280x720p) resolution and a 3,000mAh cell. The rest of the attributes are similar to the J7 series.
The J3 series is the low-end model among the three devices. It features 5.0-inch TFT HD screen, 1.4GHz quad-core processor, 2GB RAM, 16GB in-built storage, 13MP shooter with f/1.9 aperture, a 5MP camera with f/2.2 aperture and a 2,400mAh battery.
The company has confirmed that the new Galaxy J series phones will be released sequentially in next three months, starting with Galaxy J5 (2017) for €279 (approx. $314/Rs. 20,259) in June, followed by the Galaxy J7 (2017) for €339 (approx. $382/Rs.24,616) in July and the Galaxy J3 (2017) for €219 (approx.$247/Rs. 15,902) in August. They will come in black and gold colour options.
As of now, there is no official word on when Samsung intends to launch the new Galaxy J series in India.
Watch this space for latest news on Samsung products.
Related