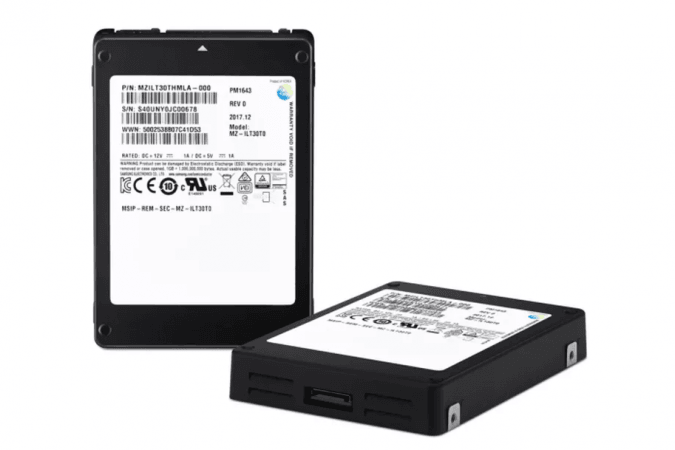 Samsung, which also has a thriving data storage business, unveiled the world's largest capacity solid state drive (SSD) with a mind-numbing 30.72 terabyte (TB) worth of storage on February 20. Dubbed Samsung PM1643, the new ultra-high capacity SSD packs the most storage ever in a 2.5-inch form factor.
The new SSD is designed specifically for enterprise customers who are looking to move from the conventional disk-based hard drive onto newer technologies such as 64-layer 512 gigabyte V-NAND chips.
The PM1643 is built out of 32 sticks of 1TB NAND flash packages all joined together, with each stick containing 16 layers of 512GB V-NAND chips. The new SSD offers twice the storage than its predecessor the 15.36 TB SSD that was released back in March 2016. In sheer storage terms, the PM1643 has enough space to hold more than 5,700 HD movies or roughly 500 days worth of non-stop video.
Meanwhile, Seagate had previously made an SSD with 60TB storage, but that was in the 3.5-inch form factor and was labeled "demonstration technology."
Samsung's new SSD is specifically the "industry's largest capacity Serial Attached SCSI (SAS) SSD." The new drive has a 12GBps SAS interface with random read and write speeds of up to 400,000 IOPS (input/output operations per second) and 50,000 IOPS respectively. It also offers impressive sequential read and write speeds of up to 2,100MBps and 1,700MBps respectively. These benchmarks are about four times as fast as the random read performance and three times as fast as the sequential read performance of the average 2.5-inch SATA SSD that you'll find in a consumer desktop or laptop, including Samsung's own SSD 850 EVO.
The new SSD also gets a new control architecture that combines nine controllers from the previous high-capacity SSD range in a single package. The drive also has Through Silicon Via (TSV) technology to interconnect 8GB DDR4 chips, creating 10 4GB TSV DRAM packages (totaling 40GB). This is the first time that an SSD has included a TSV-applied DRAM.
Hardware aside, the SSD has neat software features like an error correction code (ECC) algorithm which ensures high reliability and minimal storage maintenance. There's also metadata protection and data retention and recovery from power cuts. The device is quite robust too, with an endurance level of one full drive write per day. Samsung is also offering a five-year warranty.
Meanwhile, the pricing and availability details of the PM1643 are not yet known, but Samsung has already started manufacturing the first batches of the 30.72TB SSD model and is planning to expand its range of SAS SSDs later this year with 15.36TB, 7.68TB, 3.84TB, 1.92TB, 960GB and 800GB versions launching very soon.