Samsung took the gaming industry in India to a whole new level when it launched the country's first curved gaming monitor earlier this year. Now, the South Korean giant has launched the world's biggest curved QLED monitor in India.
Samsung's new CHG90 is a massive 49-inch "super ultra-wide" curved monitor that is specifically designed for business professionals, but it also comes with features that might interest hardcore gaming enthusiasts.
"Samsung has always been at the forefront of consumer-centric innovations and the launch of QLED curved monitor is in line with that very commitment. A perfect companion for serious business professionals and gaming enthusiasts, the monitor is not only the biggest in the category, but also a trend setter in terms of specifications and technology," Puneet Sethi, Vice President, Consumer Electronics Enterprise Business, Samsung India, said.
The 49-inch curved monitor features a "super ultra-wide" 32:9 aspect ratio, which is equivalent to two 16:9 Full HD monitors side by side, meaning that you get double the Full HD resolution with 3840x1080 pixels.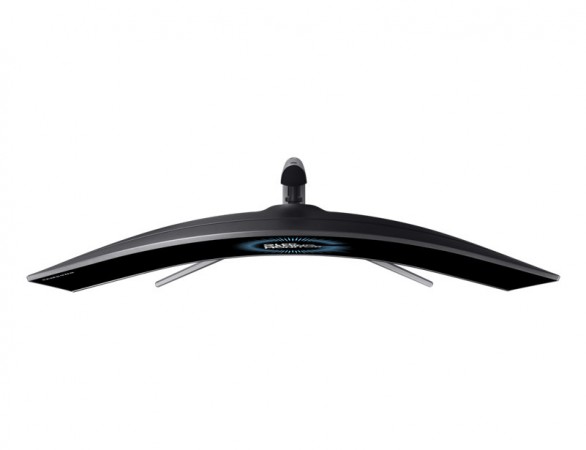 Samsung claims that the CHG90's ultra-wide display boasts of an industry-leading 1800R screen curvature, a fast response time of 1 millisecond and a screen refresh rate of 144Hz that ensures smooth action scenes even in games with high frame rates. It also comes with the company's in-house Quantum Dot technology and packs High Dynamic Range (HDR) technology that offers better contrast and a wider range of colours.
Designed with keeping the gaming community in mind, the QLED monitor comes with multiple factory–calibrated game display modes that instantly optimise black gamma levels, contrast ratios, sharpness and colour value settings for genres of games.
The monitor also offer Samsung's DeX desktop extension support, which transforms a Samsung Galaxy S8, Galaxy S8+ and the Note 8 into a desktop computer by providing a secure desktop-like experience.
Also, Samsung's new curved monitor comes with pre-loaded software called "Easy Setting Box" which lets users to partition the CHG90's expansive screen into several displays of various sizes and functional configurations for enhanced multitasking.
Samsung says that its new curved monitor has been designed for extended usage and uses "Flicker Free technology" to assist in light comfort. The monitor also comes with an "Eye Saver Mode" which reduces eye fatigue by obstructing blue light.
The "super ultra-wide" CHG90 curved monitor has been launched at an equally "stretched" price tag of Rs 1,50,000. The monitor will be available for purchase initially from Samsung Stores and will be made available at other retail stores later on.