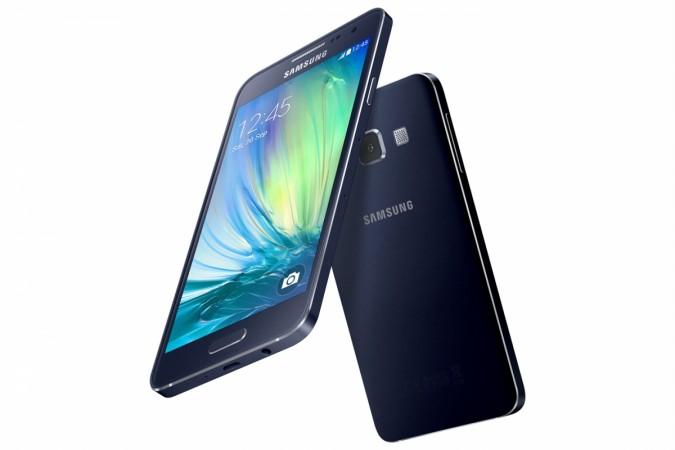 Smartphone leader Samsung officially launched the new Galaxy A and E series mid-range handsets in India on Tuesday.
Samsung's metal-clad Galaxy A5 and A3 were originally unveiled back in October and now the company has announced the devices that will be made available later this month.
On the other hand, the new Galaxy E7 and Galaxy E5 are brand new E series devices from the company, thus making India the global launch pad.
Samsung's initiative of unveiling new devices in India is an example how times have changed and speaks volume of India's economic power, especially the smartphone market, which is said to be the world's third largest handset business arena (after China and USA).
India also has the distinction of being world's fastest smartphone market. IDC's (International Data Corporation) recent Q3 results have revealed a staggering growth of 80% year-on-year shipment of smartphones in India.
"As we embark in this New Year, Samsung heralds a new and exciting era with the introduction of compact, stylish and best-in-class technology smartphones in India," said Ken Kang, Senior Vice President, Mobile & IT, Samsung India
"Continuing our legacy of setting new standards for customer-centric innovation, we are focused on redefining the concept of offering revolutionary devices and expand our leadership position within the smartphone market," he added.
Samsung Galaxy A5, A3, E7 and E5 India price and release details:
Samsung has confirmed that Galaxy A5 and A3 will hit Indian stores next week for ₹25,500 and ₹20,500 respectively, reported AndroidOS.in
Whereas, the new Galaxy E7 and E5 will be released on 20 January for ₹23,000 and ₹19,300 respectively.
Key Specifications of Samsung Galaxy A5 and Galaxy A3:
Models
Samsung Galaxy A5
Samsung Galaxy A3
Display
5.0-inch HD (1280x720p) super AMOLED screen with Adaptive Display technology
4.5-inch qHD (540x960p) super AMOLED with Adaptive Display technology
OS
Android 4.4 KitKat
Android 4.4 KitKat
Processor
1.2GHz Snapdragon 410 quad-core processor
1.2GHz 410 quad-core processor
RAM
2GB
1GB
Storage Capacity
16GB, expandable up to 64GB
16GB, expandable up to 64GB
Camera

Main: 13.0-megapixel camera with auto-focus, LED flash

Front: 5.0-megapixel camera

Main: 8.0-megapixel camera with LED flash, auto-focus
Front: 5.0-megapixel camera

Battery
2,300 mAh with Ultra Power Saving Mode
1900 mAh with Ultra Power Saving Mode
Network
3G & 4G-LTE Cat.4 (in select markets)
3G & 4G-LTE Cat.4 (in select markets)
Add-ons
Bluetooth 4.0 (BLE, ANT+), NFC (in LTE models only), Wi-Fi (802.11 a/b/g/n), A-GPS/GLONASS,
Bluetooth 4.0 (BLE, ANT+), NFC (in LTE models only), Wi-Fi (802.11 a/b/g/n), A-GPS/GLONASS,
Dimensions
139.3 x 69.7 x 6.7 mm
130.1 x 65.5 x 6.9 mm
Weight
123 g
110.3 g
Price
₹25,500
₹20,500
[Image credit: Samsung Mobile Press]
Key Specifications of Samsung Galaxy E7 & Galaxy E5:
Models
Samsung Galaxy E7
Samsung Galaxy E5
Display
5.5-inch HD (1280x720p) super AMOLED screen
5.0-inch HD (1280x720p) super AMOLED screen
OS
Android 4.4.4 KitKat
Android 4.4.4 KitKat
Processor
1.2GHz Snapdragon 410 quad-core CPU
1.2GHz Snapdragon 410 quad-core CPU
RAM
2GB
1.5GB
Storage capacity
16GB, expandable up to 64GB
16GB, expandable up to 64GB
Camera

Main: 13.0-megapixel camera LED flash

Front: 5.0-megapixel camera with120-degree wide-angle selfie image taking ability

Wide Angle Selfie, Selfie Voice Command, Selfie with Palm Gesture, Beauty Face Features

Main: 8.0-megapixel camera with LED flash
Front: 5.0-megapixel camera with120-degree wide-angle selfie image taking ability
Wide Angle Selfie, Selfie Voice Command, Selfie with Palm Gesture, Beauty Face Features

Battery
2950 mAh
2400 mAh
Network
3G
3G
Add-ons
Bluetooth v4.0, Wi-Fi (802.11 ), USB 2.0, A-GPS/GLONASS, Ultra Power Saving Mode, Private Mode, Shot & More
Bluetooth v4.0, Wi-Fi (802.11 ), USB 2.0, A-GPS/GLONASS, Ultra Power Saving Mode, Private Mode, Shot & More
Dimensions
151.3 x 77.2 x 7. 3 mm
141.6 x 70.2 x 7.3 mm
Price
₹23,000
₹19,300