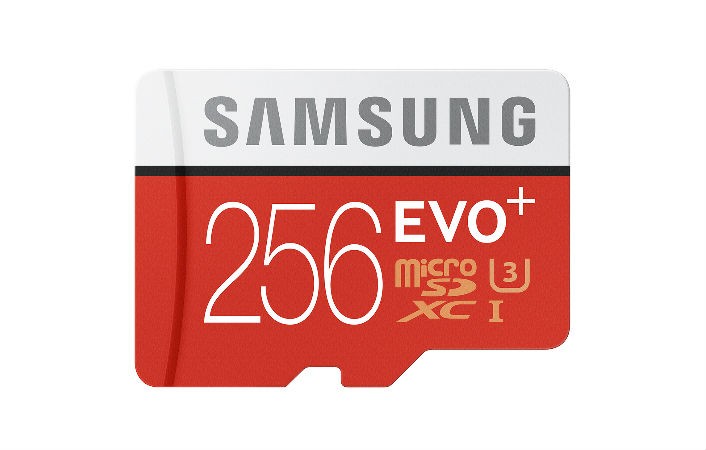 We have gone from being wowed by 4 and 8 GB SD cards to considering 32 and 64 GB microSD cards as commonplace in a surprisingly short period of time. And now Samsung has taken several steps ahead by unveiling a microSD card with a whopping 256 GB of storage.
The EVO Plus 256GB microSD card has reportedly been designed by the semiconductor/cell phone giant to keep up with the growing megapixel counts, resolutions and dimensions — all thanks to the 360-degree, 3D and VR content.
According to reports, the Class 10 card is capable of storing up to 12 hours of 4K video or up to 33 hours of HD video, and thanks to Samsung's expertise in V-NAND chip technology, it has read and write speeds of up to 95MB/s and 90MB/s, respectively.
The microSD card has enough room to store up to 55,000 12 MP photos. Apart from being IPX7 rated, making it almost invulnerable to water, the card is also reportedly X-ray and temperature-resistant. Also, as it is impervious to magnetic fields, one needn't worry about the data being lost due to being exposed to really powerful magnets, like those found inside studio monitors.
Samsung's 256GB microSD card is not the first of its kind in the market. Sandisk, which made its name through flash memory, had launched a 200GB Class-10 microSD card in March last year. While the Sandisk memory card was launched with a $400 price tag, it can be picked up online in India for about Rs. 10,000.
The Samsung EVO Plus 256GB microSD, on the other hand, can be picked up for $249, after its launch in June, and comes with a 10-year warranty.