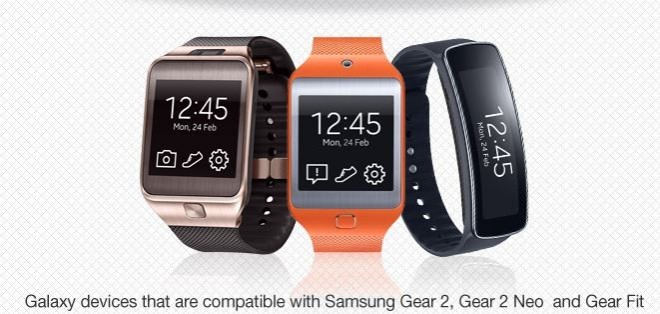 World smartphone leader, Samsung has released the list of Galaxy devices compatible with the recently launched Gear series smartwatches and fitness smart-wristband.
The list includes 12 smartphones - Samsung Galaxy S5, Samsung Galaxy S4, Samsung Galaxy S4 Zoom, Samsung Galaxy S4 Active, Samsung Galaxy S4 Mini, Samsung Galaxy S III, Samsung Galaxy Note 3, Samsung Galaxy Note 3 Neo, Samsung Galaxy Note II, Samsung Galaxy Grand 2, Samsung Galaxy Mega 6.3 and Samsung Galaxy Mega 5.8 and remaining eight devices are tablets that include - Galaxy Tab4 10.1, Tab4 8.0, Tab4 7.0, TabPro 12.2, TabPro 10.1, TabPro 8.4, NotePro 12.2 and Galaxy Note 10.1 2014 Edition.
Apart from the above listed gadgets, Samsung Gear smartwatches and fitness band users can also Galaxy S4 LTE-A variant and the curved display phone Galaxy Round, which are exclusive to South Korean market.
Last year in September 2013, Samsung unveiled the first generation smartwatch Galaxy Gear and got panned for its limited usage as it was only compatible to a handful of Galaxy devices. This year, Samsung has increased the number to 20 devices, but unlike Sony's smart-wearable gadget, Gear smartwatches and fitness bands are still off-limits to thousands of other Android handsets in the market.
Smartwatches - Gear 2 and Gear 2 Neo made their debut at the Samsung Galaxy Unpacked Episode 1 event in Barcelona (25 February); they pack pretty much same specifications, whereas the only discernible difference between the two is that Neo model lacks camera module.
Both the Samsung smartwatches boasts of 1.63-inch super AMOLED display, run on Tizen OS, 1.0GHz dual-core CPU, 512MB RAM, 300 mAh battery and come loaded with a plethora of health and fitness based applications such as Heart Rate sensor, Pedometer, Exercise (with Standalone mode and Companion mode), and support Sleep & Stress app (needs to be downloaded separately).
Other value added features include Bluetooth call, Camera (only available in Gear 2), Notification (SMS, E-Mail, Apps), dust and water resistant IP67 certifications, noise cancellation, media controller, Smart Relay, S Voice and stopwatch.
On the other hand, Gear Fit sports a 1.84 curved Super AMOLED screen with 432x128p resolutions and boasts of HeartRate sensor, fitness related applications such as Pedometer, exercise app, HeartRate monitor, sleep, stopwatch, timer, notifications (SNS, Call, E-mail, Apps), schedule, Smart Relay, Media Control and water-and-dust resistant IP67 certification.
Key Specifications of Gear 2 and Gear 2 Neo:
Model
Gear 2 and Gear 2 Neo
Display
1.63-inch Super AMOLED display with 320x320p resolutions
OS/ interface
Tizen based wearable platform
Processor
1.0GHz dual-core processor
RAM
512MB RAM
Memory
4GB
Camera
Gear 2: 2.0-megapixel camera with auto-focus, Sound & Shot, Location Tags, SignatureGear 2 Neo: Not available
Battery
300 mAh;Normal usage: 2-3 days

Low usage: up to 6 days

Fitness features
Heart Rate sensor, Pedometer, Sleep & Stress app (needs to be downloaded separately), Exercise (with Standalone mode and Companion mode)
Add-ons
Bluetooth call, Camera, Notification (SMS, E-Mail, Apps), dust and water resistant IP67 certifications, Noise cancellation, media controller, Smart Relay, S Voice, Stopwatch, Dust and water resistant IP67 certifications,
Dimensions
Gear 2: 36.9 x 58.4 x 10.0 mmGear 2 Neo: 37.9 x 58.8 x 10.0 mm
Weight
Gear 2: 68 gGear 2 Neo: 55 g
Colors (Changeable straps)
Gear 2: Charcoal Black, Gold Brown and Wild OrangeGear 2 Neo: Charcoal Black, Mocha Grey and Wild Orange
Price (in India)
Gear 2: ₹21,900Gear 2 Neo: ₹15,900
Key specifications of Samsung Gear Fit:
Model
Samsung Gear Fit
Display
1.84 curved Super AMOLED screen with 432x128p resolutions
Sensors
Accelerometer, Gyro, HeartRate
Applications
Pedometer, Exercise app, HeartRate monitor, sleep, Stopwatch, Timer, Notifications (SNS, Call,E-mail, Apps), schedule, Smart Relay, Media Control
Add-ons
IP67 dust and water resistant, Bluetooth v4.0 LE, Changeable strap
Battery
210 mAh;Typical usage: 3 to 4 days

Low usage: close to 5 days

Dimensions
23.4 x 57.4 x 11.95 mm
Weight
27g
Price (in India)
₹15,900
(Image Credit: Samsung Tomorrow)
(Ed: AJ)