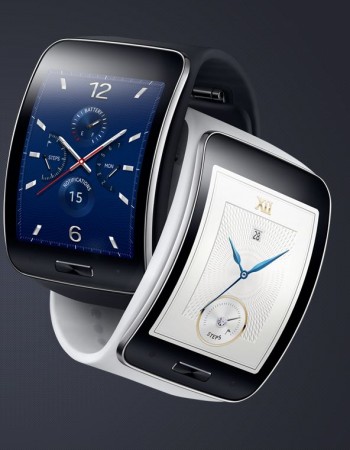 Samsung has finally announced their sixth Smartwatch, Samsung Gear S for the US audience.
The latest Gear S will be available from 7 November onwards through all major US carriers, including Verizon, AT&T, Sprint and T-Mobile. The device will also be available across the company's store in-a-store shops at Best Buy locations, according to Samsung.
Available in two colour variants- Black and White, Gear S has a unique curved design for better ergonomics. The Gear S features a built-in cellular radio and a 2-inch curved OLED display.
AT&T and Verizon have announced that Gear S Smartwatch will be available through their carrier from 7 November on a two year contract basis. Sprint will roll out the Smartwatch on 9 November through a contract basis.
The Gear S will also be available on without contract basis as well and for that the device is expected to be priced between ₹21,500- ₹24,600 approximately (350 USD to 400 USD). Significantly, the MOTO X and other Smartwatches are way cheaper than this device.
But standing apart from other smartwatches, Samsung Gear S will be able to make and receive calls and messages along with all the regular wearable functionalities, and can work independently. Featuring Samsung's own operating system Tizen, Gear S will only be able to pair up with all the latest Samsung smartphones, including Samsung Galaxy S5 and Samsung Galaxy Note 4.
Running on a Dual Core 1.0GHz processor, Gear S has been coupled with a 512MB RAM and 4GB of internal memory. The 2-inch curved super AMOLED screen has a resolution of 360x480 pixels. Supporting all the 2G and 3G networks, this Smartwatch features connectivity features like WiFi 802.11 b/g/n, A-GPS, GPS/Glonass, Bluetooth 4.1 and USB 2.0. Powered by a 300 mAh Li-ion battery, Gear S also comes with IP67 certification for water and dust resistance capability.
Since the battery life is a major concern for most of the users, it would be interesting to see how much battery life it will provide after using the cellular radio. However, Samsung is offering a snap-on battery charger with an extra battery life of 350 mAh.
The latest Gear S is expected to launch in India by earlier next year, however, the official launch date has not yet been confirmed.