Leading smartphone-maker Samsung launched the new Galaxy Tab S3 series Bengaluru, India on June 20.
The new Galaxy Tab S3 was originally unveiled at Mobile World Congress (MWC) 2017 in late February. It comes with top-notch hardware and we had access to the product during the press meet.
Here's our initial impression on Samsung's new Galaxy Tab S3:
Samsung Galaxy Tab S3 - Design and build quality:
Samsung's new Galaxy Tab S3 boasts visually appealing design language and comes with high-grade body on the back and additional layer of fine quality glass, which adds value to the exterior looks.
Despite having copious amount of metal and glass, it weighs just 434g (remember this a tablet) and measures just 6mm in thickness, offering good grip for hands to hold and perform operations even in single hand.
Samsung Galaxy Tab S3-Display:
As far the display is concerned, watching video on the Galaxy Tab S3's super AMOLED screen is a delight to the eyes. Further, the audio system is undoubtedly the finest we have seen in tablet so far. We played a couple of full HD videos on the device, its four stereo setup provides rich surround sound experience. It is aptly supported by the speakers' intelligent 'Auto Rotate Stereo' function, which allows the tablet to redirect sound based on its orientation, creating a more accurate and consistent listening experience.
Given that it houses massive 6,000mAh battery with up to 12 hours video playing capability, it is certain to attract niche group of consumers, who travel a lot.
[Note: The Galaxy Tab S3 audio system is developed by AKG, which by the way is owned by Harman International]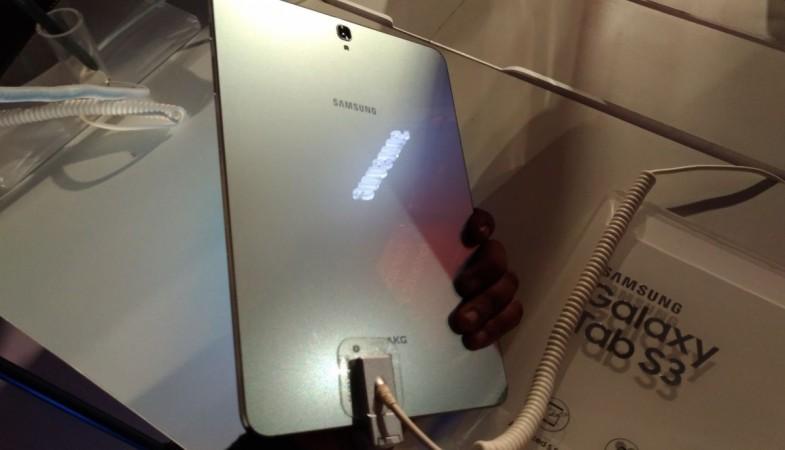 Samsung Galaxy Tab S3-Processor, RAM & Storage:
Samsung Galaxy Tab S3 comes with Snapdragon 820 quad-core processor, dedicated gaming chip Mobile DNie chip backed by4GB RAM and a 32GB in-built storage (up to 256GB via microSD card). We couldn't fully test the device's capability, whatever short time we spent, the device responded well, be it switching between the apps, or using S Pen to edit videos and create GIFs, it worked with buttery smooth.
Samsung Galaxy Tab S3-Camera:
Samsung Galaxy Tab S3 houses a feature-rich 13MP camera on the back, which is also capable of taking 4K videos, a very rare feature to see on a tablet. It took really good images in bright light conditions, but we reserve the judgement only when we get a chance to test the device other lighting conditions.
On the front, it comes packed with decent 5MP camera with CMOS, which took fine quality selfies.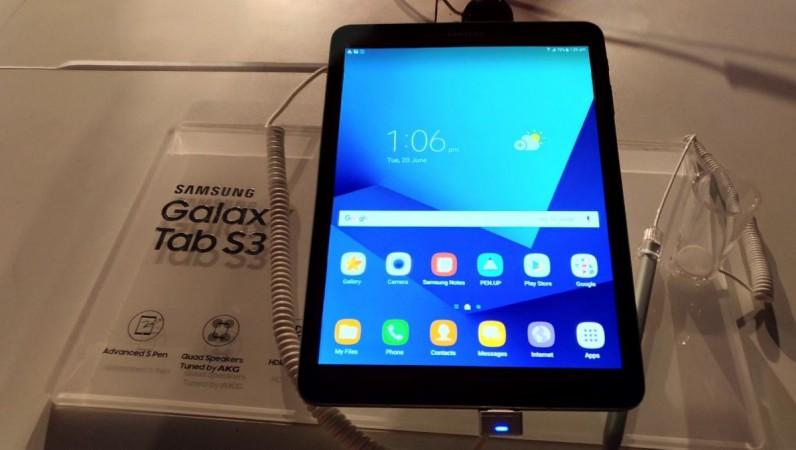 Samsung Galaxy Tab S3-S Pen:
Samsung's new S Pen stylus is very handy tool, which come in real-like pen. It measures 9mm in length and comes with 0.7mm tip. The Galaxy Tab S3 sensitive screen and feature-rich software to deliver really good writing and also offer multiple functionalities be it taking notes right on the display. User need not even open the Notes app, they can start writing on home page and jot down the notes. While we dig deeper into the device, there is a plethora of value-added features. It not only helps in editing written notes, but also videos, images, create 15-seconds GIFs and many more stuffs.
Samsung Galaxy Tab S3-Our initial verdict:
Though, we had very little time to assess the device, Samsung Galaxy Tab S3 is undoubtedly one of the best looking tablets out there. S Pen is also a very handy tool and makes the user-experience of the Galaxy Tab S3 even more fun. The camera was surprisingly good; it takes quite a fine quality images for a tablet class.
All-in-all, the Galaxy Tab S3 truly lives up to its tag-line "Play well at work too".