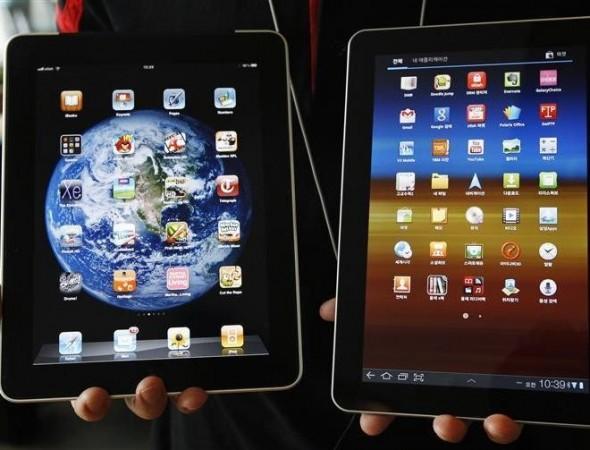 Last month, top tier-1 MNC brand Samsung launched the ultra premium Galaxy Tab S slate series in India.
The new high-end Galaxy Tab S is touted as the best tablet to be rolled out by the South Korean company, which has so far focused on mid-range devices. It has heaped lots of praise from numerous tech critics and fans alike for its super slim body and rich display.
It will go head on with Apple iPad Mini (second generation) with Retina display and the competitively priced Google affiliate tablet Asus- Nexus 7 (2013 edition).
Despite being older than the two rivals, the Google tablet has still got lots of tricks up its sleeves to match the latest devices.
Prospective consumers contemplating to buy a premium mini-tablet (between 7.0-inch and 8.4-inch sizes) can take a look at these devices – Samsung Tab S (8.4), Apple iPad Mini 2 and Google Nexus 7 (2013).
Here is a brief description of the stand-out features of Samsung Galaxy Tab S, Apple iPad Mini 2 and Asus-Google Nexus 7:
Design and Display:
As the name suggests, Google Nexus 7 sports a 7.0-inch IPS LCD screen boasting full HD (1920x1080p) resolution and pixel density of 323 ppi (pixels per inch).
On the other hand, Apple's second generation iPad Mini sports a 7.9-inch Retina (2048x1536p) display screen technology and like all its siblings, it too boasts metal based back-cover, giving a premium feel to the device.
Among the three, Samsung slate come on top as the Galaxy Tab S boasts super AMOLED WQXGA (2560x1600p) screen with a pixel density of 288 ppi.
It also flaunts the same perforated back-cover shell and the ominous home button with finger-print sensor seen on the flagship smartphone Galaxy S5, but it lacks water-and-dust resistant certifications. This feature can be ignored, as people tend to use tablets more in confined spaces, protected from water sources, unlike smartphones.
Processor, RAM & Storage:
Samsung Galaxy Tab S comes in two variants – one having 2.3GHz Qualcomm Snapdragon 800 series quad-core CP U and another model comes with Exynos 5 Octa (1.9 GHz Quad-core +1.3 GHz Quad-core). It is backed by sumptuous 3GB RAM and 16GB with an option of expansion up to 128GB via microSD card.
[Note: Type of the processor in the tablet depends on the region]
In this aspect, Apple's iPad Mini 2 holds the upper hand as it is the most advanced tablet in the industry. It boasts the company's in-house designed Apple A7, a 64-bit architecture based efficient dual-core processor.
To lessen the work load on the main CPU, Apple has planted another co-processor M7 to independently handle the motion related tasks of the phone's gyroscope and accelerometers. It is backed by 1GB RAM and PowerVR G6430 graphics engine.
The only disadvantage of Apple devices is that it comes with limited storage capacity. Higher the storage space customers want; they have to shell out more.
Google Nexus 7 packs a 1.5GHz Snapdragon S4 Pro quad-core processor. It has to be noted that, in the previous 2012- Nexus 7 model, Asus and Google had used Nvidia's Tegra 3 quad-core processor, but this time, prolific tablet developers had tied-up with the industry leader, Qualcomm to incorporate the time-tested Snapdragon series chipset.
Mobile Operating System Software:
Apple iPad Mini 2 ships with the proprietary iOS, which houses more than one million apps and games and is more secured compared to the Android ecosystem. Latest studies reveal that, Android users are at the risk of installing malwares and spywares from the Google Play store. They also face some compatibility issues due to the tablet's bigger display size.
Galaxy Tab S and Nexus 7 run on the same Android OS platform, but Asus tablet owners will have one advantage over the Samsung device as the former is a special affiliate of Google and have the privilege of getting latest software updates first among the Android devices.
As of now, Nexus 7 is running on the latest v4.4.4 KitKat OS, whereas Samsung Galaxy Tab S ships with v4.4.2 KitKat OS (new firmware is awaited).
Camera:
Samsung Galaxy Tab S houses a 8.0-megapixel camera with LED flash and a 2.1-megapixel (full HD video recording ability) front camera for video chatting.
Apple iPad Mini 2 packs a 5.0-megapixel iSight camera with 5-element lens and a 1.2-megapixel front-facing camera with HD (720p) video recording and face-detection abilities.
On the other hand, Google Nexus 7 (2013) ships with a 5.0-megapixel main camera with full HD 1080p recording ability and a pretty decent 1.2-megapixel front-facing camera.
Price:
We already know that these devices are premium, so they are very expensive. Among them Apple iPad prices range between ₹28,900 to a staggering ₹58,900.
Again, depending on the storage/LTE/Wi-Fi only - variants, Google Nexus 7 (2013) costs between ₹20,999 and ₹27,999 at the official online store, Google Play.
[Note: Consumers can also get the same device at other e-commerce for lesser price]
On the other hand, Samsung Galaxy Tab S (16GB) costs ₹37,800 [Samsung India e-Store].
[Also read: Samsung Galaxy Tab S (10.5) vs. Apple iPad Air vs. Sony Xperia Z2 Tablet: Specifications Comparison]
Key Specifications of Samsung Galaxy Tab S (8.4), Apple iPad Mini 2 and Google Nexus 7 (2013):
Models
Samsung Galaxy Tab S 8.4
Apple iPad 2 with Retina Display
Asus-Google Nexus 7
Display
8.4-inch super AMOLED WQXGA (2560x1600p) screenPixel density: 359 ppi (Pixels Per Inch)Comes with scratch-resistant Corning Glass screen shield
7.9-inch LED back-lit multi-touch retina display with 2048x1536p resolutions.Pixel density: 326 ppicomes with finger-print resistant oleophobic coating
7.02-inch IPS LCD screen with full HD 1080x1920p display resolutionPixel density: close to 323 ppicomes with scratch-resistant Corning Glass screen shield
OS
Android v4.4.2 KitKat OS
iOS v7.0 (out-of-the-box), update v7.0.4 is available now
Android v4.4.4 KitKat
Processor
Exynos 5 Octa (1.9 GHz Quad-core + 1.3 GHz Quad-core) or Qualcomm Snapdragon 800 2.3 GHz Quad-core CPU (type of processor depends on the region/operator)
Apple A7(64-bit architecture) with M7 motion co-processor
Qualcomm Snapdragon S4 Pro quad-core processor with 1.5GHz CPU speed (chipset type: APQ8064)
GPU
Mali-T678 MP6/ Adreno 330
PowerVR G6430 (quad-core)
400 MHz Adreno 320 graphics engine
RAM
3GB
1GB DDR3
2GB
Storage capacity
16GB (expandable up to 128GB)
16GB/32GB/64GB/128GB
16GB & 32GB
Camera
Main: 8.0-megapixel with LED flash, auto-focus

Front: 2.1-megapixel (full HD video recording ability)

Main: iSight 5.0-megapixel camera with 5-element lens, f/2.4 aperture, HDR photos, full HD video recording capability, 3 x video zoom

Front: 1.2-megapixel camera with HD (720p) video recording, face-detection

Main: 5.0-megapixel camera with full HD 1080p recording ability

Front: 1.2-megapixel camera

Battery
4,900 mAh
Built-in 23.8-watt/hour rechargeable lithium-polymer battery;Up to 10 hours surfing web on Wi-Fi and 9 hours via SIM
3,950 mAh, with up to 9 hours of back-up
Network
3G
3G and 4G-LTE (in select markets)
3G & 4G/LTE (optional)- available in select markets
Add-ons
Finger print sensor, Bluetooth v4.0, IrLED, Wi-Fi (802.11 a/b/g/n/ac MIMO),
Wi-Fi (802.11 a/b/g/n; dual band: 2.4GHz & 5GHz ), MIMO, Bluetooth v4.0, Nano-SIM tray for cellular model,
Bluetooth v4.0, Wi-Fi Dual-band (802.11 b/g/n & 2.4GHz & 5 GHz), NFC, micro-USB v2.0, Wireless charging capability
Dimensions
212.8 x 125.6 x 6.6 mm
200 x 134.7 x 7.5 mm (negligible difference in the SIM based model)
200.0 x114.0 x 8.65 mm
Weight
294g (Wi-Fi only model)/298g (SIM model)
331 g
Wi-Fi model:290 g; LTE model: 299 g
Price
₹37,800/-
Ranges from ₹28,900 to ₹58,900
32GB-LTE model: ₹27,999;16GB (Wi-Fi only): ₹20,999;32GB (Wi-Fi only): ₹23,999

(Google Play Store India)