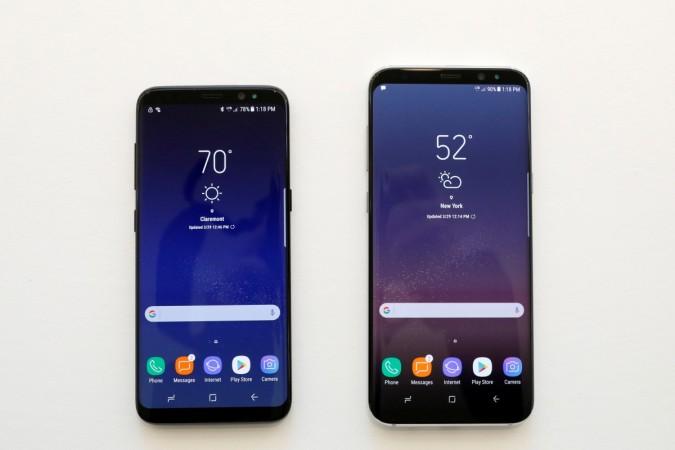 Samsung's upcoming Galaxy S9 and S9+ are expected to come with no upgrade in battery capacities over their predecessor.
Renowned tipster Roland Quandt has posted pictures of a couple of batteries on Twitter, revealing that the Galaxy S9 and the S9+ will come packed with 3,000mAh and 3,500mAh cell, same as in the Galaxy S8 and S8+, respectively.
This comes as a surprise for many as Samsung is still playing safe with the battery capacity. Last year, the company had chosen to incorporate smaller cell owing to the ill-fated Galaxy Note7 battery issue. The Galaxy S8 series was bigger than the Galaxy S7 series in size (height x breath) and display (18.5:9 aspect ratio).
It looks like Samsung just wants to offer a problem-free Galaxy S9 series as the device is expected to feature almost the same design language. Samsung fans hope that the new 10nm calls Exynos 9810 or Qualcomm Snapdragon 845 (depending on the region of sale) in the Galaxy S9 series has better optimisation feature for efficient use of power and help phone run through the day.
Furthermore, Android Oreo also comes with battery optimisation feature. Rest assured, Galaxy S9 series owners can expect a full day of battery life under mixed usage.
Samsung Galaxy S9 series: All you need to know
According to the latest reports, the upcoming Galaxy S9 (5.8-inch) and S9+ (6.2-inch) are said to feature almost the same design language as of the Galaxy S8 series with Infinity Display having a dual-edged curved screen.
Leaked images have indicated that the generic Galaxy S9 will have just one primary shooter on the back, whereas it's bigger sibling, S9+, is expected to house a dual-camera sensor on lines of the Galaxy Note8.
As said before, the 2018 Samsung Galaxy S9 series, depending on the region of sale, is expected to come with two variants, one a 10nm class Qualcomm Snapdragon 845 (in the US, China, and select countries) or Samsung's 10nm Exynos 9810 series (in India, Europe, and others).
As for the memory configuration, the standard Galaxy S9 will be offered in two options 4GB RAM+64GB storage and 4GB RAM and 128GB storage, whereas the bigger screen version Galaxy S9+ will be available in 6GB RAM+64GB storage, 6GB RAM+128GB storage and 6GB RAM+256GB models in major markets across the world.
Word on the street is that Samsung has plans to release a limited edition Galaxy S9+ with 6GB RAM and massive 512GB storage in select markets.
Rumour has it that the Galaxy S8 successor will have variable aperture setting options, which allows users switch between f/1.5 and f/2.4 apertures depending on the lighting environment. The former will allow the camera to absorb more light during indoor or dark conditions, while the latter can be used during bright sunny conditions.
The standard Galaxy S9 is expected to boast 12MP primary camera on the back and 8MP front-facing camera. However, the S9 Plus is said to house dual-camera, but there is no information on MP count. It will come with the same 8MP sensor on the front, as seen in the generic model.
Also read: Galaxy S9 vs iPhone X: Samsung phone may come with Synaptics Clear ID security, more advanced than Apple FaceID
Samsung is slated to debut Galaxy S9 series on February 25, a day ahead of Mobile World Congress (MWC) 2018 (February 26-March 1), Barcelona.
After the unveiling, the new Samsung Galaxy S9 series is expected to hit stores around mid-March.
As far as the pricing is concerned, Samsung's standard Galaxy S9 price is said to start at KRW950,000 (approx.$886/€716/Rs 56,500) and the S9+ (base model) is expected set you back by KRW999,000 (approx. $929/€753/Rs 59,414).
Stay tuned. Follow us @IBTimesIN_Tech on Twitter for latest updates on Samsung products.