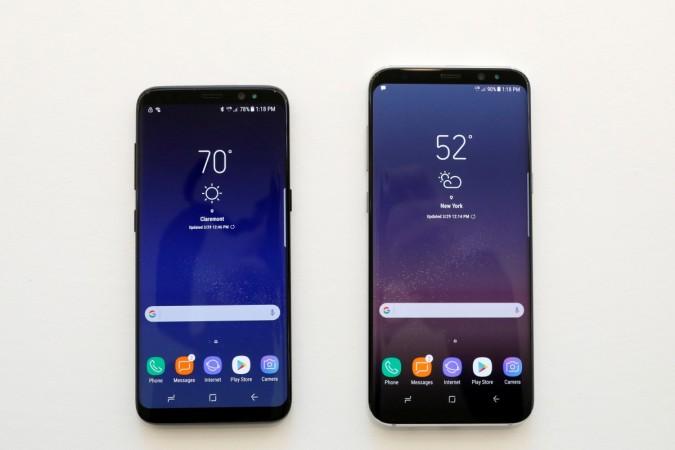 The latest Samsung Galaxy S8 and Galaxy S8+ are only a few days old, but the new flagship devices from the South Korean conglomerate have already turned out to be the company's best smartphone launch ever. Adding another chapter of glory to Samsung's success, an analyst has predicted that the company could sell over 50 million Galaxy S8 units globally in 2017.
Lee Jae-yoon, an analyst at Taiwan-based Yuanta Securities, has estimated in his report that the sales volumes of the new Galaxy S8 smartphones will reach 50.4 million in 2017, with the larger Galaxy S8+ accounting for the majority of the sales. The growing number of people using smartphones for mobile games and video content will help the Galaxy S8+ ring up 27.1 million units in sale (53.9 percent), while Samsung will sell 23.3 million units (46.1 percent) of the standard Galaxy S8, Lee said.
The larger or premium variants of Samsung's flagship smartphones have historically done well for the company by gaining more attention from consumers. According to Lee, Samsung's Galaxy S6 Edge and Galaxy S7 Edge accounted for 51.3 percent and 51.9 percent of the company's combined sales, respectively.
On Monday, Samsung also announced that pre-orders for the Galaxy S8 outpaced pre-orders for the Galaxy S7 by 30 percent. The feat also made it the company's "best ever" Smartphone launch, which means a lot for Samsung especially because the Galaxy S8 is the first flagship handset the company has released since the Galaxy Note7 fiasco.
"The Galaxy S8 and S8+ are a result of that recommitment and the market has responded – with a more than 30 percent year-over-year growth in pre-orders versus the record pre-orders we had with Galaxy S7, making it our best ever," CNBC quoted Tim Baxter, Samsung Electronics America president and chief operating officer, as saying.
Except for a couple of differences, both Samsung Galaxy S8 and Galaxy S8+ come with the same specs. The Galaxy S8 sports a 5.8-inch display while the Galaxy S8+ features a 6.2-inch display. The larger variant also has a bigger 3500mAh battery, compared to the 3000mAh battery inside its smaller-screen counterpart.