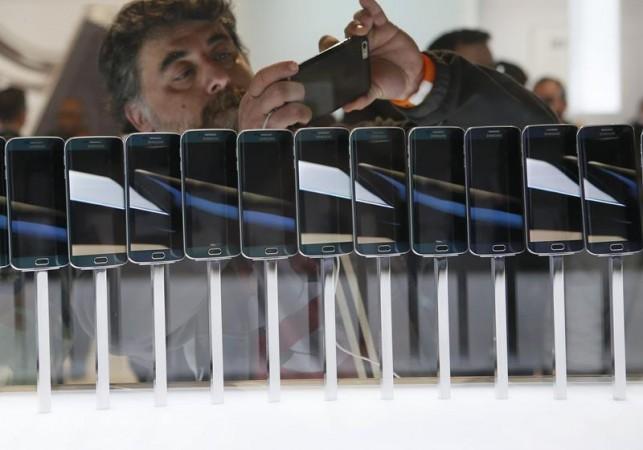 A recent report hinted that Galaxy S7 series will boast a waterproof body, inciting excitement among fans.
A US government-owned Federal Communication Commission (FCC) document, containing Galaxy S7 Edge battery details, has now emerged, bringing more joy to Samsung patrons.
The FCC file obtained by 9to5Google has revealed that Galaxy S7 Edge will house a 3600 mAh battery, 1000mAh more powerful than that found in S6 Edge. If this turns out to be true, S7 Edge will stand out as the only flagship series smartphone to boast such a big battery. The current crop of high-end phablets such as Huawei Nexus 6P, Samsung Galaxy Note 5 and Apple iPhone 6S Plus come with 3450mAh, 3000 mAh and 2750mAh cells, respectively.
Some believe that the increase in battery capacity in the new phone may not have such a huge impact on battery life if the rumours of Galaxy S7 Edge coming in 5.5-inch QHD screen size turns out be true. S6 Edge had 5.1-inch QHD display.
That said, the US-bound Galaxy S7 Edge is expected to come in Snapdragon 820 chipset and the processor is said to be more power efficient compared to the previous version. It also comes with Quick Charge 3.0 technology, making Galaxy S7 Edge a compelling device.
Also read: Samsung may bring back one key feature of Galaxy S5 to Galaxy S7
Galaxy S7 series roundup:
Galaxy S7 series, internally known as Project Lucky, is expected to come in two variants -- Galaxy S7 with 5.1-inch flat display panel having QHD (2560x1440p) resolution and another S7 Edge with 5.5-inch dual-edge screen having QHD (2560x1440p) resolution.
The new Galaxy S7 series are also said to house 4GB RAM, 64GB inbuilt memory, 12MP camera with f/1.7 aperture and a 5MP wide-angle front snapper.
Both Galaxy S7 and S7 edge are expected to come in two SoC (System on Chip) variants depending on the region of sale. One will house the company's proprietary Exynos 8890 series Octa-core CPU, while the other will come shipped with Qualcomm's 2.2GHz Snapdragon 820 series quad-core processor.
Read more: Samsung Galaxy S7 tipped to boast more advanced display technology than iPhone 6S' 3D Touch
Samsung is slated to unveil the new Galaxy S7 series later this month, on Feb. 21. Stay tuned for more updates.