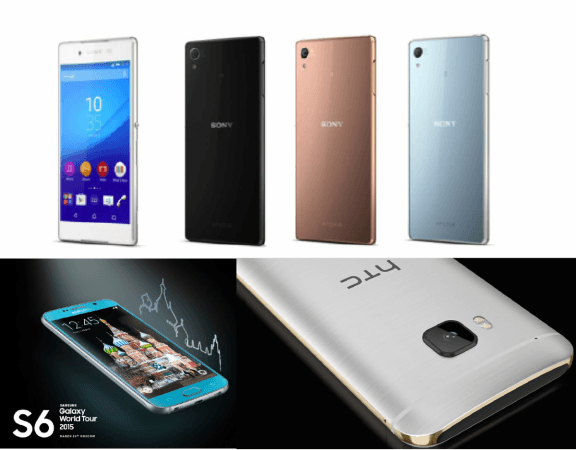 If you are in the market for some smartphone shopping and don't mind splurging, here are some top-notch handsets that you must consider.
Samsung has truly handed the most advanced flagship in the form of Galaxy S6, but rival companies stepped up the game with their own entries. HTC launched its One M9 flagship alongside Samsung flagships at the MWC 2015 event last month and Sony quietly released its Xperia Z4 Monday. In order to give you a better look at all the three handsets, we put together a side-by-side comparison of specs and features of the three flagships.
All the handsets feature top-of-the-line specs, but there is only one winner. We conclude the comparison with our verdict.
Display
Samsung Galaxy S6 is a clear winner in this category, boasting of a 5.1-inch Super AMOLED QHD display with 2560 x 1440 pixel resolution and 557ppi. HTC One M9 and Sony Xperia Z4 pack a full HD display with 1920 x 1080p screen. HTC's screen measures 5 inches and has 440ppi while Xperia Z4 is slightly bigger than the other two handsets, at 5.2 inches.
Processor
HTC and Sony opted for a similar Qualcomm's 64-bit Snapdragon 810 SoC with 3GB RAM and 32GB internal space. However, Samsung Galaxy S6 features all-new, home-grown Exynos 7420 octa-core processor, which is based on 14nm 64-bit class chip and offers great benchmarking scores compared to its rivals. The Galaxy S6 further supports 3GB RAM and comes in three storage variants, 32GB, 64GB and 128GB.
It won't be a complete surprise to name the Galaxy S6 as the most advanced smartphone with its 14nm chip.
Design
In terms of design, all three handsets have their own significance. While HTC adopted a new dual-tone finish for its One M9's anodized aluminium body, Samsung ditched cheap plastic build for its Galaxy S6. Sony's Xperia Z4 looks almost identical to its predecessor but it may appeal to those who love Sony's Omni Balance design concept. Samsung, on the other hand, has taken a huge leap forward in designing the Galaxy S6 with Gorilla Glass 4 on front and back side of the handset.
Camera
Sony has established a strong impression in the minds of its users that flagship Xperia smartphones offer the best camera quality. But the Japanese tech giant has competition. Sony equips the same 20.7-megapixel rear-facing camera with 1/2.3-inch Exmor RS sensor and BOINX image processor for incredible shots and a much-improved 5.1MP front shooter.
As for Samsung's flagship, the Galaxy S6 boasts 16MP rear-facing camera with OIS and a 5MP front snapper. HTC One M9 offers better competition to Sony with its 20.7-megapixel camera with f/2.2, 27.8mm lens, BSI sensor, digital stabilization and a 4.1MP front-facing Ultrapixel camera. On paper, Sony Xperia Z4 camera promises better results than the other two smartphones.
Battery
Sony Xperia Z4 boasts of the largest 2,930mAh battery while HTC One M9 packs 2,840mAh unit. Comparatively, Samsung packs the smallest battery unit, measuring at 2,550mAh, which can be a challenge for users to make it through the day given its 2K display but the Ultra Power Saving Mode can do some magic.
Verdict
The comparison of these three smartphones is based on the specs and features released by the respective companies. A hands-on review of all three phones will give a better perspective. In our limited review, we find Samsung pips HTC and Sony on many parameters, such as display, processor and design.