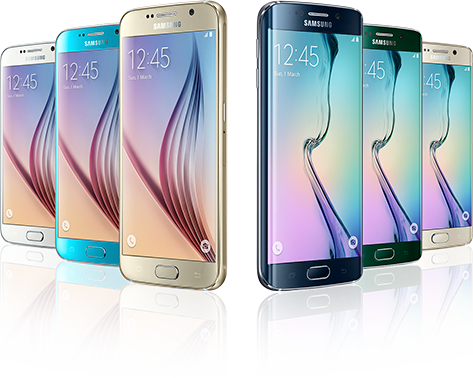 Samsung is already on top of the world, following the incredible demand for its Galaxy S6 and Galaxy S6 Edge smartphones and the company is making irresistible offers to pull in more buyers.
The Korean tech giant opened pre-bookings for its flagship smartphones in India earlier this week and ends on 9 April. To make the pre-booking period more appealing to buyers, Samsung has a host of incredible deals and offers you can't afford to miss. We have rounded up all the pre-booking benefits Samsung is currently offering to its customers.
Free Screen Replacement
If customers are pre-booking their Samsung Galaxy S6 or Galaxy S6 Edge before 9 April, they will be entitled for a 12-month free accidental coverage for the display. High-end smartphone displays are usually almost half the price of the smartphone, making it a huge expense when damaged. Samsung's latest pre-booking offer is attractive as it covers one-time screen replacement for both of its flagship smartphones for free.
Samsung will charge a relatively low price for repair, labeled as a handling charge of just ₹990. The cost of the Galaxy S6 and S6 Edge displays are not known but it will definitely range around ₹15,000 to ₹20,000.
Payback Points
Samsung is already lauded for its effective pricing of the Galaxy S6, but the Galaxy S6 Edge hits the high-end price range. But the high price was expected considering the massive design overhaul and a major software and hardware upgrade. To make its flagship smartphones' price seem more reasonable, Samsung is offering 10,000 welcome points for those who pre-book their Galaxy S6/ S6 Edge between now and 9 April.
The Payback points will be credited to buyers after seven days of registration on "My Samsung Rewards" app on Google Play Store. Buyers must ensure they activate their Galaxy smartphone using the same SIM as the number used for pre-booking. The Payback points can be used in various categories such as travel, dining, entertainment, fashion, health & wellness.
Cash-Back or Buy-Back Offers
Any potential buyer might be skeptical about pre-booking a high-end smartphone and miss out on some launch offers such as cash-backs. But Samsung is letting the pre-bookers take advantage of any Samsung Cash-Back Offer released at the time of launch. The cash-back amount will be given to pre-bookers in the form of Payback points. Currently, ₹1 is equivalent to 4 Payback points, which may differ at any time. So Samsung will calculate the cash-back value and credit equivalent points to customers' account.
According to Samsung, pre-bookers will be eligible for any Cash-back or Buy-back offer on or before 10 October.
For instance, "Samsung introduces a 10% Cash Back Offer on Galaxy S6 on July 1, 2015 on Best Buy Price of Rs.50,000 (hypothetical Best Buy price on April 10), the customer will be eligible for the Pre-book Privilege equivalent of Rs.5000, i.e. 20,000 Payback points," Samsung explained with an example.
"Subsequently, if Samsung introduces a Rs.7,500 Buyback Offer on Galaxy S6/S6 Edge on October 1, 2015, then the customer will be eligible for a 2nd Pre-Book Privilege. The same will be calculated as a difference of the new Cash back/ Buy Back Offer less the earlier benefit given, i.e. Rs.7,500 – Rs.5,000 = Rs.2,500, i.e. 10,000 Payback points."
Easy EMI Offers
If the high-price tag for Samsung Galaxy S6 and S6 Edge seems too much to afford under your current financial condition, Samsung is open to EMI options. HDFC credit card holders can get the flagships on 18months EMI while ICICI credit card holders can enjoy 12 months convenience. There will be some associated interest and taxes during such purchase.
Those who hold zero interest EMI of Bajaj Finance, Samsung Galaxy S6 will be available only on 14/2 Scheme and Samsung Galaxy S6 Edge on 18/3 Scheme.
These offers are quite interesting considering the Galaxy S6 and Galaxy S6 Edge are already getting a great response from consumers worldwide. This can also help Samsung reclaim its throne in the competitive smartphone industry.