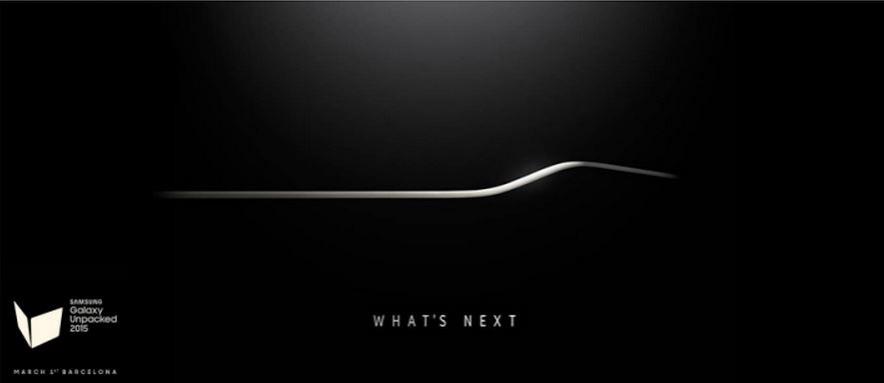 In about a couple of days from now, Samsung will pull the wraps off the much-anticipated Galaxy S5's successor Galaxy S6 at Barcelona.
For weeks, the Internet has been abuzz with rumours of Galaxy S6's features; it has seemingly reached a crescendo with release of a series of enticing teaser videos by Samsung, giving a glimpse of what is in store for fans coming Sunday.
To help get a better perspective on the Galaxy S6's key specifications, we have sifted through numerous reports and put together a list of probable key features, which are likely to make the cut in Samsung's 2015 marquee phone.
Samsung Galaxy S6-Display and Build:
The new Galaxy S6 is said to flaunt metal based uni-body design, a feature that technology market analysts, critics and fans have long been asking Samsung to come up in their flagship phone. The South Korean company has been accused of producing good phone with a low-quality plastic cover.
But now the company's strained financials have woken up Samsung from its deep slumber; the company is forced to take action or else risk losing the crown to arch-rival Apple.
Technology website HDBlog.it has reported that Galaxy S6's internal body as well as the shell on the rear-side will be made of aluminum. When finally assembled, it is expected to have uni-body design similar to the awarding winning HTC One series.
Even the teaser videos released by Samsung support the above report. In the video (above), we hear a lady saying, "metal will flow , borders will disappear, Reflections will be free, Colors will live," all indicating that Galaxy S6 will boast zero-gap metal body and certainly a rich display panel made of energy efficient super AMOLED (Active-Matrix Organic Light Emitting Diode).
It is learnt that the company will keep screen size to 5.1-inch, same as Galaxy S5, but bump the resolution from full HD (1920x1080p) to QHD (aka 2K: 2560x1440p) display with pixel density of more than 550 pixels per inch of the screen.
Besides the normal model, Samsung is also said to launch a limited edition Edge model with curved display, similar to Galaxy Note Edge.
Unlike Galaxy Note Edge, Galaxy S6 Edge will have dual-edge display; where-in phone's screen will be curved on both right and left side.
Even the official teaser image posted by some American network carriers have shown Galaxy S6 Edge model with display extending to the sides.
Extra space on both edges will reportedly be utilized to house illuminated icons (shortcuts) for easy access to user's favourite apps.
[Note: Galaxy Note Edge has curved screen only on one side]
Samsung Galaxy S6-Processor, RAM and storage:
2014 flagship phone Galaxy S5 was released with two chipset variants based on network availability in select regions.
Similarly many believed that Galaxy S6 and the Edge edition would get launched with two-models each having different processors.
Now, it has come to light that Samsung has reportedly ditched the plan to incorporate the new Snapdragon 810 CPU in its smartphones.
Bloomberg citing sources at Samsung has claimed that the company faced over-heating issues with Snapdragon 810 chipset during the test run of Galaxy S6.
The glitch reportedly forced Samsung to ditch the Snapdragon CPU model and instead launch single Galaxy S6 (and S6 Edge) variants featuring company's in-house built Exynos 7 Octa-core SoC (System on Chip).
Qualcomm in its bid to appease Samsung, tried to provide a new upgraded 810 chipset. But the South Korean company has apparently made up its mind to launch Galaxy S6 models with Exynos 7 Octa-core processor only.
In terms of storage, we expect the new Samsung smartphones to ship with 3GB (or 4GB) RAM and 32GB/64GB/128GB inbuilt memory having expandable options via microSD card.
What's interesting in the storage disk in Galaxy S6 is that it boasts of most-advanced UFS 2.0 memory, instead of the eMMC memory standard, which are seen in the current crop of flagship smartphones.
The new UFS 2.0 memory allows faster booting, faster data input/output response, three times faster file copy, and three times multitasking capability.
In simple terms, Galaxy S6 users can watch high-quality videos, play high bandwidth games and other entertainment, while running multiple applications and downloading or uploading files, all with very less (or no) lag in functionality.
You can see Samsung taunting processing power of Galaxy S6 in this video below:
Samsung Galaxy S6 and S6 Edge: Value-added Features
Much Improved Fingerprint Sensor:
Reports from South Korea have indicated Samsung has dumped the glitch-ridden, swipe-based system to touch-based sensor, which can enroll whole finger-pattern on the Galaxy S6.
"The sensor will work in the same manner as on the Huawei Ascend Mate 7 and the iPhone 5S / 6 / 6 Plus," reported SamMobile, citing reliable company sources.
The new Finger-print sensor can be used for smart-screen unlock, web sign-in, authenticate login mode for Samsung account, unlock private-mode and more importantly, be used for secured payment transaction mode for PayPal account.
Will Samsung Galaxy S6 feature Water-proof certifications?
2014 flagship model Galaxy S5 boasted IP67 water-and-dust repellant certifications, so many expected its successor to have same or advanced certifications.
However, we believe that Galaxy S6 and its Edge model's new body design language and the use of metal hampers the idea of water-proofing the phone.
Heart-rate sensor and UV (Ultra-Violet) sensor:
Beside the enhanced finger-print sensor, Samsung is likely to include couple of S-Health app features SPO2 (Peripheral capillary oxygen saturation) sensor and UV sensor on the camera LED module, which were last seen in flagship phablet Galaxy Note 4. The former measures oxygen concentration in the blood and the latter measures harmful sun-rays, and provide tips to users on how to avoid sun burn and the quantum of exposure to sunlight that is harmful to the skin.
Samsung Galaxy S6 and S6 Edge-Mobile Operating Systems:
Galaxy S6 in all probability, will run on Android 5.x Lollipop OS, but what's interesting to know about the user-interface is that Samsung has offloaded most of the company apps (we like to call it the bloat-wares) to make it less cluttered and simple to use.
If sources at Business Korea are to be believed, Samsung wants the Galaxy S6 user-interface to be as smooth as stock vanilla Android on Nexus 6, having all the new material design and graphic animations and other features seen in Lollipop OS.
Samsung Galaxy S6 and S6 Edge -Camera details:
In early February, Samsung Camera R&D division head officially hinted that the upcoming Galaxy S6 will not only have a bump in mega-pixel count, but also some value-added 'intelligent' features to enhance photography experience.
[Read More- Galaxy S6 to Boast 'Intelligent' Camera that Enhances Users' Photography Experience: Samsung Official]
Even the teaser video released by Samsung hints at the same; check out here:
It is learnt that Galaxy S6 (and S6 Edge) will boast of 20.0-megapixel camera on the rear side with value-added features OIS (Optical Image Stabilization), HDR and other photography user-experience enhancing features.
Samsung Galaxy S Series Camera Evolution Chart:
| | | | | | | |
| --- | --- | --- | --- | --- | --- | --- |
| Pixels | Galaxy S | Galaxy SII | Galaxy SIII | Galaxy S4 | Galaxy S5 | GalaxyS6[Expected] |
| Main Camera | 5MP | 8MP | 8MP | 13MP | 16MP | 20MP |
| Front Camera | VGA | 1.9MP | 1.9MP | 2MP | 2MP | 5MP |
Samsung Galaxy S6 and Edge Price details:
Technology blog Android Pit, citing sources has claimed that Samsung Galaxy S6 models- 32GB, 64GB and 128 would cost- €749 Euros (around $ 848/₹ 52,600), €849 Euros (around $961/₹59,600) and €949 Euros (around $1074/₹66,630) respectively.
On the other hand, the Galaxy S6 Edge models – 32GB, 64GB and 128GB will come with price-tag of €849 Euros (around $961/₹59,600), €949 Euros (around $1074/₹66,630) and €1049 Euros (around $1187/₹73,650)
Samsung Galaxy S6 and S6 Edge Release details:
It has come to light that Galaxy S6 will hit stores in select global markets either around 22-30March/19-27 April 2015. The company has sent out a memo asking Samsun store employees to restrain from apply leaves in the aforementioned time-frame hinting Galaxy S6 might released within a month of launch, reported Phone Arena.
As far as india is considered, a company insider tipped us Galaxy S6 will hit stores in the subcontinent only in April. Pre-order service is expected to take-off by the middle of March.
[Read more: Airtel India Teases Samsung Galaxy S6 on Twitter; Hints Carrier Might Take Pre-orders after Launch]
It is believed that Samsung wants to have a headstart over rivals - HTC and Sony - who are also slated to announce their flagship handsets One (M9) aka HIMA and Xperia Z4 respectively at the MWC (Mobile World Congress) 2015.
Expected specifications of Samsung Galaxy S6 and Galaxy S6 Edge:
Model
Samsung Galaxy S6 and S6 Edge
Display

5.1-inch super AMOLED QHD (aka 2K: 2560x1440p) screen. It will be protected by Corning Gorilla Glass 4 shield
Pixel density: more than 557 ppi (pixels per inch)

OS
Most likely to come with Android 5.0 Lollipop OS
Processor
Model 1: 14nm based 64-bit class Exynos 7420 Octa-core (four Cortex-A53 + four Cortex-A57 cores)
GPU
Mali T-760
RAM
3G/4GB
Storage capacity
32GB, 64GB and128GB
Camera

Main: 20.0-megapixel with 4K video recording option, OIS (Optimal Image Stabilization)
Front: 5.0-megapixel camera

Battery
2600 mAh
Network
4G-LTE (CAT10: up to 450 Mbps download speed)
Colours
Dark-blue, Blue-green, Gold and White
Price

Samsung Galaxy S6 32 GB: €749 Euros (around $ 848/₹ 52,600)
Samsung Galaxy S6 64 GB: €849 Euros (around $961/₹59,600)
Samsung Galaxy S6 128 GB: €949 Euros (around $1074/₹66,630)
Samsung Galaxy S Edge 32 GB: €849 Euros (around $961/₹59,600)
Samsung Galaxy S Edge 64 GB: €949 Euros (around $1074/₹66,630)
Samsung Galaxy S Edge 128 GB: €1049 Euros (around $1187/₹73,650)