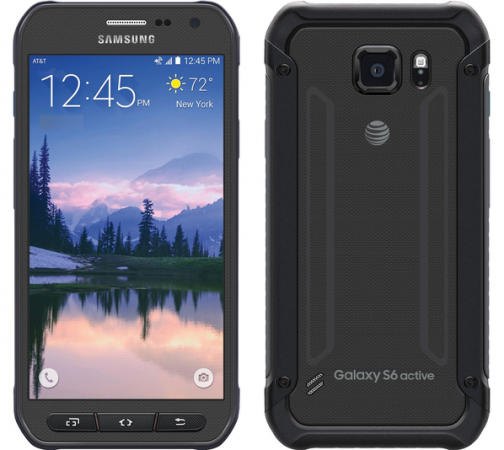 It is almost official that Samsung is going to launch the Active variant of its flagship Galaxy S6 with a rugged build, thanks to series of leaked specs and images. Although Samsung chose to remain mum on the subject, frequent leaks have shown us what Galaxy S6 Active is going to look like and the features it will carry. After a few days of utter silence, a fresh image has leaked to show the ruggedness of the device up close.
The latest render comes from @evleaks, who has previously leaked the Galaxy S6 Active images on Twitter. There are no major differences that can be drawn out from the new image, except that the rear side of the handset is treated with a much moderate design.
Samsung will retain the rugged look by protecting the handset with a strong armour-style casing across the sides. The new image also shows an AT&T symbol on the rear, suggesting Samsung's plan to launch the Galaxy S6 Active exclusively on the US carrier's network. This would not be surprising as the tech giant had pulled off a similar strategy with Galaxy S5 Active last year.
As for the hardware and specifications, everything seems to be in order with previous rumours. Galaxy S6 Active will feature three physical buttons for Home, Back and Multi-window, while giving up the fingerprint scanner. But the handset will carry the heart rate sensor just like the original Galaxy S6 and relocate the loudspeaker towards the rear panel.
Under the hood, rumours have suggested that the specs will remain similar. The Galaxy S6 Active will feature a 5.1-inch Quad HD Super AMOLED display, 16MP rear camera with flash, 5MP front snapper and a 14nm Exynos 7420 chipset. As per the rumours, the Active variant will boast a bigger 3,500mAh battery compared to the 2,600mAh unit found in the Galaxy S6.