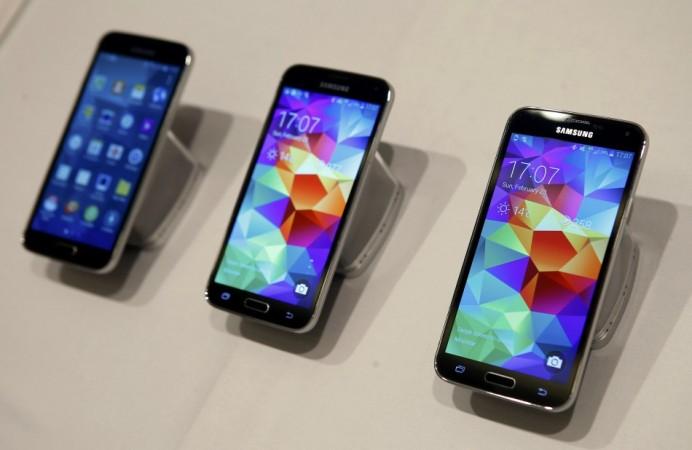 Speculations on Samsung Galaxy S5 Prime, a bigger and more powerful model of Samsung's recently unveiled flagship smartphone Galaxy S5, has surfaced even before the new handset hit the stores.
Samsung Galaxy S5, which was unveiled on 24 February, is all set to release in 150 countries on 11 April.
The South Korean electronics giant had earlier denied claims that it will release another variant of the Galaxy S5 but latest reports suggest that Samsung is indeed coming out with a bigger and more powerful model of its flagship smartphone.
Benchmarks on GFXBench shows a product called Samsung SM-G906S, with a bigger display and higher resolution, according to a report by CNET. The fact that Galaxy S5 model number is SM-G900, and the newly discovered model bears a similar number, indicates that Samsung might be planning a new version of its flagship smartphone.
Samsung Galaxy S5 Prime will sport a 5.2-inch screen with 2560 x 1440 resolution, powered by a 2.5GHz quad-core Qualcomm Snapdragon 805 processor and run on Android 4.4.2 KitKat OS, according to the benchmark information obtained by CNET. It will also feature at least five-finger gesture support, 15MP main camera and 2MP front camera.
The news of Galaxy S5 Prime may affect the business of the soon-to-be-released Galaxy S5 as many tech experts and gadget lovers had already expressed disappointment on the processor and screen resolution of the new flagship smartphone, when it was announced more than a month ago.
Samsung Galaxy S5 sports a 5.1-inch Super AMOLED display with full HD (1920x1080p) resolution, having pixel density of 440 plus ppi (pixels per inch). It is powered by a 2.5GHz Qualcomm Snapdragon 801 series quad-core CPU, runs on Android v4.4.2 KitKat OS, and has a 16MP front camera and a 2.1MP front camera.
The device also has features like water and dust resistant body, fingerprint-based biometric technology, Kids mode, Private mode, Download booster and S Health v3.0.
(Edited by Vishnuprasad S Pillai)