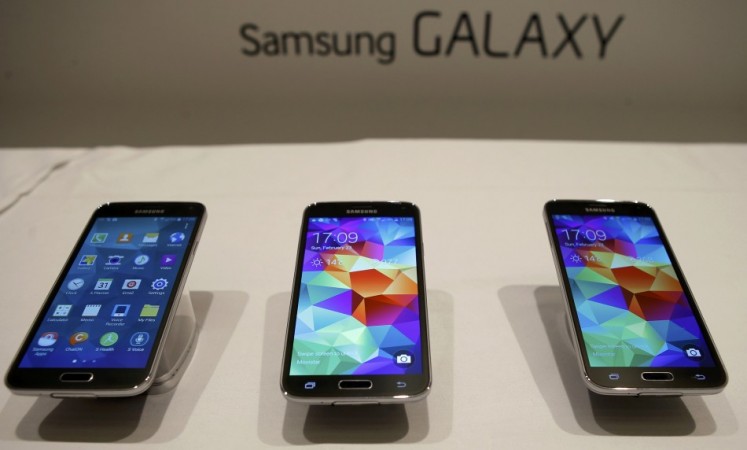 Consumer electronics giant, Samsung India officially launched the company's 2014 flagship smartphone Galaxy S5 at a glitzy event in New Delhi.
The company has announced that the new Galaxy S5 can be pre-booked starting today at select authorized shops and on the company's official eStore for ₹1,500. The company official refrained from disclosing the final-price, but hinted that the marquee phone would be priced more than ₹51,000 but within the range of ₹53,000, some media reports said.
[Update: Samsung to open pre-booking window for Galaxy S5 from 29 March]
Samsung 2014 smartphone Galaxy S5's marquee features include finger-print sensor (on home buttonoemhome), water-and-dust resistant body (IP67 certifications), heart-rate monitor (below camera module), Octa-core Exynos Processor -1.9GHz quad-core + 1.3GHz quad-core (in India), download boaster, fifth generation Wi-Fi (802.11 a/b/g/n/ac HT80, MIMO (2x2)) faster wireless data transfer and 0.3-second superfast auto-focus camera feature.
Apart from Galaxy S5, Samsung also showcased the companion devices Gear 2 series smartwatch and the smart-fitness band Gear Fit.
Samsung Gear 2 sports a 1.63-inch Super AMOLED display with 320x320p resolution and runs on Samsung's proprietary Tizen operating system powered by 1.0-GHz dual-core processor with 512MB RAM and 4GB inbuilt memory.
Other notable features include 2.0-megapixel camera in the smartwatch module (an improvement over its predecessor which had camera in the strap), dust and water-resistant IP67 certifications, control TV (featuring IrLED sensor) and offer personal fitness coaching via value-added applications like Exercise (comes with Standalone mode and Companion mode), Pedometer along with Heart Rate sensor, Sleep and Stress app (needs to be downloaded separately).
On the other hand, Galaxy Gear 2 Neo packs pretty much the same specifications seen inside the Gear 2 sans a one key feature - camera.
Gear Fit flaunts a 1.84 curved Super AMOLED screen with 432x128p resolutions and boasts of HeartRate sensor and fitness related applications such as Pedometer, Exercise app, HeartRate monitor, sleep, Stopwatch, Timer, Notifications (SNS, Call, E-mail, Apps), schedule, Smart Relay, Media Control and water-and-dust resistant IP67 certification.
The second generation Samsung smartwatch Gear 2 will be retailed for ₹21,900, while the economic variant Gear 2 Neo and the Gear Fit will have the same price-tag of ₹15,900. All the devices including Galaxy S5 are slated to hit stores across India on 11 April.
Specifications of Samsung Galaxy S5:
Model
Samsung Galaxy S5
Display
5.1-inch Super AMOLED display with full HD (1920x1080p) resolution having pixel density of 440 plus ppi (pixels per inch)
OS
Android v4.4.2 KitKat OS with new TouchWiz UI
Processor
In India, it will be packing Octa-core Exynos Processor (1.9GHz quad-core + 1.3GHz quad-core )International variant: 2.5GHz Qualcomm Snapdragon 801 series quad-core CPU (chipset: MSM8974AC)
RAM
2GB
Storage capacity
16GB/32GB , expandable up to 128GB via micro SD card
Camera
Main: 16.0-megapixel camera with HDR, fast (0.3-second) auto-focus (world's fastest), 4K video recording Front: 2.1-megapixel camera with full HD video recording
Battery
2800 mAh battery with Ultra Power Saving ModeTalk time: up to 21 hours

Standby mode: 390 hours

Network
LTE Cat.4 (150/50Mbps)
Connectivity
Wi-Fi (802.11 a/b/g/n/ac HT80, MIMO (2x2)), Bluetooth v4.0 BLE/ANT+, NFC, IR Remote
Add-ons
Water-proof and dust-resistant IP67 certification, finger print based biometric technology, Kids mode, Private mode, Download booster, S Health v3.0,
Dimensions
142.5 x 72.5 x 8.1 mm
Weight
145 g
Colors
Charcoal Black, Shimmery White, Electric Blue and Copper Gold
Price
Expected to be between ₹51,000 and ₹53,000
Specifications of Samsung Gear 2 and Gear 2 Neo:
Model
Samsung Gear 2 and Gear 2 Neo
Display
1.63-inch Super AMOLED display with 320x320p resolutions
OS/ interface
Tizen based wearable platform
Processor
1.0GHz dual-core processor
RAM
512MB RAM
Memory
4GB
Camera
Gear 2: 2.0-megapixel camera with auto-focus, Sound & Shot, Location Tags, SignatureGear 2 Neo: Not available
Battery
300 mAh;Normal usage: 2-3 days

Low usage: up to 6 days

Fitness features
Heart Rate sensor, Pedometer, Sleep & Stress app (needs to be downloaded separately), Exercise (with Standalone mode and Companion mode)
Add-ons
Bluetooth call, Camera, Notification (SMS, E-Mail, Apps), dust and water resistant IP67 certifications, Noise cancellation, media controller, Smart Relay, S Voice, Stopwatch, Dust and water resistant IP67 certifications, Noise cancellation
Dimensions
Gear 2: 36.9 x 58.4 x 10.0 mmGear 2 Neo: 37.9 x 58.8 x 10.0 mm
Weight
Gear 2: 68 gGear 2 Neo: 55 g
Colors (Changeable straps)
Gear 2: Charcoal Black, Gold Brown and Wild OrangeGear 2 Neo: Charcoal Black, Mocha Grey and Wild Orange
Price
Gear 2: ₹21,900Gear 2 Neo: ₹15,900
Key specifications of Samsung Gear Fit:
Model
Samsung Gear Fit
Display
1.84 curved Super AMOLED screen with 432x128p resolutions
Sensors
Accelerometer, Gyro, HeartRate
Applications
Pedometer, Exercise app, HeartRate monitor, sleep, Stopwatch, Timer, Notifications (SNS, Call,E-mail, Apps), schedule, Smart Relay, Media Control
Add-ons
IP67 dust and water resistant, Bluetooth v4.0 LE, Changeable strap
Battery
210 mAh;Typical usage: 3 to 4 days

Low usage: close to 5 days

Dimensions
23.4 x 57.4 x 11.95 mm
Weight
27g
Price
₹15,900