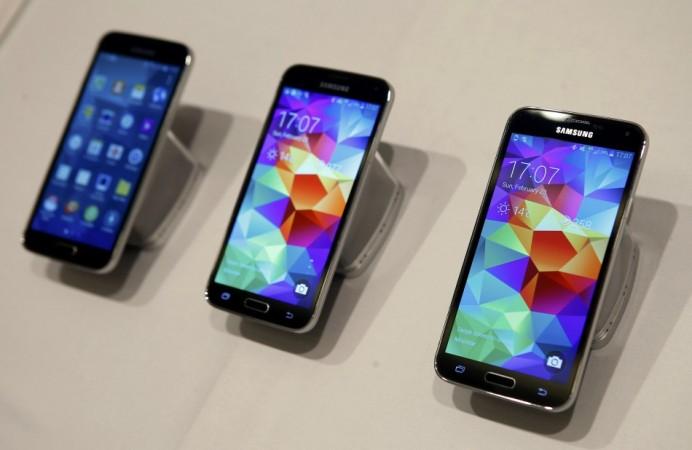 Some fans of the Galaxy series might love Samsung's new flagship smartphone - Galaxy S5 - anyway, but many gadget lovers will be left disappointed, as there is no notable change in the new device both in terms of design and features that makes it stand apart from its predecessor Galaxy S4.
Samsung Galaxy S5 was unveiled at its "UNPACKED5" event in Barcelona on 24 February, after months of speculation and anticipation. It will be available on many carriers from 11 April onwards in 150 countries.
The South Korean electronics giant did upgrade the new smartphone, but many fans of Galaxy series felt let down, as most of the rumored features are not seen in the device. Moreover, some feel that the company has not changed the looks of the device much since Galaxy S3.
Here are five reasons why Samsung Galaxy S5 will upset fans:
1. Display and Resolution: It was rumored that Galaxy S5 would sport a 5.2 or 5.25-inch AMOLED display with WQHD 2560x1440 (560ppi) but in reality it sports only a 5.1-inch Super AMOLED display with full HD (1920x1080p) resolution having pixel density of 440ppi. In fact, pixel density of the display is lower than Galaxy S4, which sports a 5.0-inch Full HD (1920x1080p) Super AMOLED display with 441 ppi.
"Galaxy S5 display is a huge let down. I would have gone for it if it comes with the rumored display. I'm disappointed," said a tech enthusiast.
2. Design: Screen display has been increased from 5.0-inch (Galaxy S4) to 5.1-inch, which is not a big difference. Bulkier size and perforated rear shell are the only change in terms of design, and it's not really a noticeable one.
"Samsung has not made much change to its Galaxy series design since Galaxy S3. It's (design) is getting rather boring....I don't understand why Samsung has not tried new look for its new smartphone," said Michael, a gadget lover studying in St.Joseph's College, Bangalore.
3. Processor: It was rumored that the new device would boast of 2.5Ghz Snapdragon805 (main) or 2.0Ghz Octa-core Exynos6 (64-bit), but seems to be a distant dream, as it came with a modest 2.5GHz Snapdragon 801 (32-bit architecture) series processor, which isn't much of an improvement over the Snapdragon 800 used in Galaxy S4.
4. Operating System: Galaxy S5 runs on new Android v4.4.2 KitKat OS, which is an upgrade from its predecessor, the Galaxy S4, which ran on Android Jelly Bean v4.2.2 OS. Additionally Galaxy S4 users may not go for the new device, as Android v4.4.2 KitKat OS update has been released for the 2013 device.
5. Bulkier Size: Samsung showcased Galaxy S4 for its slim size but interestingly, it chose a bulkier size for its 2014 flagship smartphone. Galaxy S5 has 142.5 x 72.5 x 8.1 mm dimension and weighs 145 g as compared to its predecessor's 136.6 x 69.8 x 7.9 mm and 130 g.
Despite lacking noticeable changes and upgrade from its predecessors, Galaxy S5 does boast of a few value-added features like finger print sensor for secured unlocking of the screen and safe mobile payment, water and dust-resistant certifications, superior camera with fast autofocus speed up to 0.3 seconds and the advanced High Dynamic Range (HDR), and fifth generation Wi-Fi 802.11ac and 2X2 MIMO with Download Booster, an innovative Wi-Fi technology for boosting data speed by bonding Wi-Fi and LTE simultaneously.
The new flagship smartphone also features S Health 3.0, a fitness-oriented software that helps people stay fit by providing a comprehensive personal fitness tracker to help users monitor and manage their behavior, along with additional tools, including a pedometer, diet and exercise records and a new, built-in heart rate monitor.