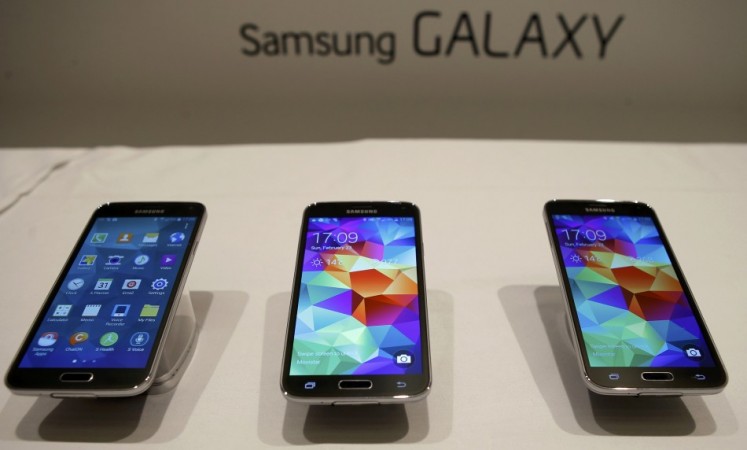 The recently released Samsung Galaxy S5 received a lukewarm response from tech pundits, for its modest upgrade over predecessor Galaxy S4. But Samsung says the company has focused on value-added features, which users are more likely to benefit than beefed-up specifications, which often does not serve the purpose in a regular day-to-day routine.
The fifth generation Galaxy S smartphone comes with fingerprint sensor (on home button), water and dust resistant certifications, built-in heart rate monitor and a small bump in display size and camera specifications. Apart from these attributes, there are a few more features that are likely to enhance user experience; they include super-sensitive display, intuitive tilt features, tool box (for easy access to favorite apps), privacy mode, camera app shortcut and more.
Here is a brief description of the 10 value-added features of Galaxy S5:
Intuitive Tilt feature for customization of playlist: The phone has the ability to intuitively suggest tracks that are similar to current song, while the user is listening to music via music player. Users just need to tilt (horizontally) the phone to landscape mode, then based on the information of the current song such as genre, mood and source, the device lists an array of similar songs, thereby reducing the tedious task for the user to make a playlist. The company says the more the user listens to music, the more accurate phone's predictions become.
Toolbox: This is bookmarking widgets designed for grouping favorite apps under one roof, which opens and closes like mini-folder/ app-drawer.
Go to Settings >> tap Toolbox, then a white circle shaped icon with three dots will appear, then press and hold the icon and drag it to the Edit button.
Then the user can customize the floating Toolbox menu by adding their favorite apps
(Or just swipe down on the status bar, directly tap Toolbox icon on the quick-panel)
Private Mode: These days smartphones have become mini-computer in hand, which can keep loads of data personal and official data like pictures, messages, documents and other important content, which some time needs to be protected from prying eyes of gossipy friends or nosy colleagues. To help keep a check on unauthorized access to personal, Galaxy S5 comes with Private Mode with password protection.
To activate this mode:
Go to settings, tap Private Mode,
Then select the contents you want to hide >> Press Menu >> tap ' Move to Private' and then a lock key appear next to the contents.
[Note: selected contents will only be visible under Private mode, user are advised not to forget the password]
Kids Mode: In most houses, elders let their children play with smartphones, which sometimes lead to children unknowingly making costly purchases online or getting access to adult-content. So to avoid these kind of situations, Samsung has introduced 'Kid mode' in Galaxy S5, wherein the user can control the contents, which can be accessed by the kid, thereby avoiding kids tumbling onto age-inappropriate content.
To activate this mode;
Go to Kids Mode >> Set your PIN >> enter kid's profile >> select applications which can be accessed by the kids.
Easy access to Camera: For any photographers (amateur or professional), timing is key aspect of the photography, the photo opportunity is quite random, it can strike at any moment, and if we miss it, we may never have second chance, so help users lose less time, Samsung incorporated an Camera app option at the screen lock for easy access.
Just go to settings >> Lock Screen >> then tap 'Camera shortcut'
Here on, Camera icon will appear on the screen lock to launch the camera application.
New Camera features: Among the numerous camera-shooting modes of the Galaxy S5, a few new features stand out. The two latest features introduced for the first time are 'Virtual Tour' and 'Shot and More.'
Virtual tour allows users to take pictures as if they are giving a tour of the surrounding area to viewers.
Shot and More give more tools to edit pictures and apply various effects immediately after taking the shots.
Enhanced Touch sensitivity: This feature will make the Galaxy S5 touchscreen more sensitive which can allow user to operate using a glove and also use pencil to write note, tap or navigate through the phone.
Go To settings >> Display >> tick 'Increase touch sensitivity'
Priority senders: This feature allows the user to send a message to select group of contacts at one go, thereby reducing time taken to manually send same messages to multiple contacts.
Go to messages app >> tap '+' icon >> then select Priority Senders (up to 25 contacts max)
Improved Call-ID UI: Now Galaxy S5 provides caller information while the user makes or receives a call, and even while they are on the phone.
Go to settings >> tab call >> tick Show caller information' check box, then the callers' recent social network activity (Google+) and the history of your communication with them will also be displayed .
Call Notification Pop-ups: In general, when a phone receives a call while operating an app, the app is stopped to answer the call. Now, Galaxy S5 users can perform tasks on apps, while on call thanks to 'Call Notification Pop-Ups' feature.
To activate it:
Go to settings >> tab Call >> tick 'Call notification pop-ups' check-box, then if you tab speaker icon on pop-up screen, the user will receive a call and keep using the applications.
(Ed: VP)
Specifications of Samsung Galaxy S5:
Model

Samsung Galaxy S5

Display

5.1-inch Super AMOLED display with full HD (1920x1080p) resolution protected by Corning Gorilla Glass 3 shield

pixel density of 440 ppi (pixels per inch)

OS

Android v4.4.2 KitKat OS with new TouchWiz UI

Processor

In India, it will be packing Adinos Prime 2 processor (1.9GHz quad-cores + 1.3GHz quad-cores+ XMM6360)

International variant: 2.5GHz Qualcomm Snapdragon 801 series quad-core CPU (chipset: MSM8974AC)

GPU

Adreno 330

RAM

2GB

Storage capacity

16GB/32GB , expandable up to 128GB via micro SD card

Camera

Main: 16.0-megapixel camera with HDR, fast (0.3-second) auto-focus (world's fastest), 4K video recording

Front: 2.1-megapixel camera with full HD video recording

Battery

2800 mAh battery with Ultra Power Saving Mode

Talk time: up to 21 hours

Standby mode: 390 hours

Network

LTE Cat.4 (150/50Mbps)

Connectivity

Wi-Fi (802.11 a/b/g/n/ac HT80, MIMO (2x2)), Bluetooth v4.0 BLE/ANT+, NFC, IR Remote

Add-ons

Water-proof and dust-resistant IP67 certification, finger print based biometric technology, Kids mode, Private mode, Download booster, S Health v3.0,

Dimensions

142.5 x 72.5 x 8.1 mm

Weight

145 g

Colors

Charcoal Black, Shimmery White, Electric Blue and Copper Gold

Unlocked Price (In India)

₹51,500