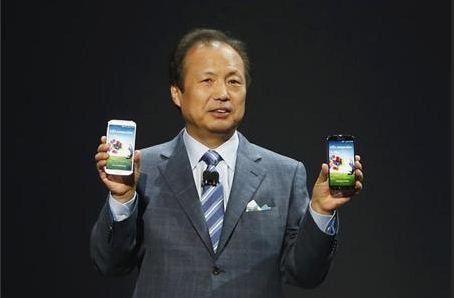 World's leading smartphone maker Samsung on Thursday evening launched the most awaited smartphone of the year, Galaxy S4, in New York City.
Last month, Taiwanese smartphone maker HTC unveiled its flagship smartphone HTC One at two glitzy events, held simultaneously in New York and London.
Galaxy S4 smartphone is expected hit Asian markets in April, while HTC One is ready to roll out to select parts of Asia in a few days. With Galaxy S4 grabbing most of the attention in the technology world, it now remains to be seen if consumers will restrain from buying HTC One and wait for Samsung's new smartphone.
Both devices sport state-of-the-art specifications in terms of display, camera and other aspects. But can HTC One's quad-core processor match Galaxy S4's Octa-core chipset?
Here is a breakdown of specs between the two smartphones:
Display:
Samsung sports an impressive 5.0-inch Full HD Super AMOLED display with pixels density of 442 pixels per inch resolution, whereas rival HTC One also sports a competitive 4.7-inch Super LCD 3 display with an amazing 468 ppi pixel density which one of industry's highest screen resolution.
Processor:
Galaxy S4 packs an octa-core processor making the first big-brand smartphone maker in the industry to sport an 8-core chipset and takes lead against the quad-core based HTC One. With the octa-core processor, the Samsung smartphone can perform multiple jobs simultaneously and thus enhance its battery life.
Camera:
Both smartphones pack superb camera specs. HTC One is one of the first smartphones in the industry to sport a 2.0-ultrapixel rear camera (equivalent to 4.0-megapixel). The Taiwanese company claims that its camera is more futuristic than the conventional high-resolution camera totting smartphones.
HTC One's custom-build camera features a f/2.0 aperture lens and a breakthrough sensor with UltraPixels that can absorb 300 percent more light than any other smartphone camera sensors.
On the other hand, Samsung's Galaxy S4 sports a 13.0-megapixel with standard lens specs, but its front camera is its star attraction. Thanks to Samsung's exclusive softwares - Smart Pause, Smart Scroll - Galaxy S4's 2.0-megapixel front camera will track facial movements to scroll through an email text or browse internet. Also, if a video is being played and the user looks away in other direction, the smartphone automatically pauses the video and starts right up again when the user turns back.
Mobile Operating Systems:
In this aspect, Galaxy S4 and HTC One stand even as both smartphones run on the same Android platform.
In terms of other specs such as storage, RAM and network connectivity speed, the differences are negligible
Here is breakdown of comparison between Samsung Galaxy S4 and HTC One [Spec-Wise]:
Model

Samsung Galaxy S4

HTC One

Display

5.0-inch Full HD Super AMOLED

Display with 441 pixels per inch

(1920 x 1080p) resolutions

4.7-inch Super LCD 3 with

RGB matrix

Display (pixel density:

468 pixel per inches)

OS

Android v4.2.2 OS (Jelly Bean)

Android v4.1.2 OS

(Jelly Bean)

Processor

Samsung Exynos 5410

Octa-core processor with 1.6GHz clock speed

and other variant expected to feature quad-core processor with 1.9GHz clock speed)

Quad-core processor

with 1.7GHz CPU speed

(Chipset type: Qualcomm

Snapdragon 600)

RAM

2GB

2GB

Storage

16GB, 32GB & 64GB, expandable

to an additional 64GB

Available in 16GB & 32GB

Camera

Main: 13.0-megapixel Auto-focus, Flash & Shutter Lag with BIS sensor

Front:2.0-megapixel pixel

camera, full HD video recording

Rear:2.0-ultrapixel camera with smart LED flash, BSI sensor

Front:2.1 megapixel

Network

3G & 4G /LTE

3G & 4G/LTE in

select markets

Battery

2600 mAh

2300 mAh

Dimensions

136.6 x 69.8 x 7.9 mm

137.44 x 68.2 x 9.3 mm

Weight

130 g

143 g

Price

Not Announced

Expected to be priced

Between ₹40,000 to

₹45,000