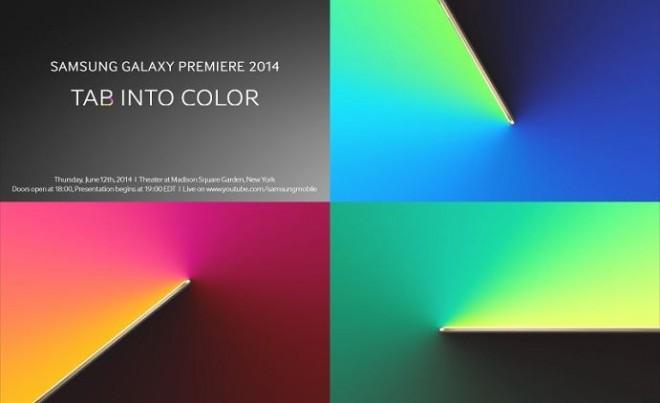 The much anticipated top-end Samsung slate series Galaxy Tab S is all set to make a grand debut in just few hours time at New York City, USA.
Samsung fans residing in other corners of the world need not feel disheartened to miss the unveiling program as the South Korean company will be streaming live webcast of the event online.
The South Korean company confirmed to host GALAXY PREMIERE 2014 event at Madison Square Garden complex, NYC, evening local time around 19:00 PM EDT, (04:30 PM IST 13 June in India).
The event coverage will be streamed live on Samsung Mobile YouTube Channel (here), Samsung Mobile UK (here), Samsung Mobile India (here) and at the official blog, Samsung Tomorrow (here)
Set your clocks for Samsung GALAXY PREMIERE 2014 live coverage:
Ottawa: 19:00 EDT, 12 June May
San Francisco: 16:00 PDT, 12 June
London: 00:00 BST, 13 June
Paris: 01:00 CEST, 13 June
Berlin: 01:00 CEST, 13 June
Amsterdam: 01:00 CEST, 13 June
Johannesburg: 01:00 SAST, 13 June
Istanbul: 02:00 EEST, 13 June
Abu Dhabi: 03:00 GST, 13 June
Moscow: 03:00 MSK, 13 June
Islamabad: 04:00 PKT, 13 June
New Delhi: 04:30 IST, 13 June
Jakarta: 06:00 WIB, 13 June
Beijing: 07:00 CST, 13 June
Hong Kong: 07:00 HKT, 13 June
Taipei: 07:00 CST, 13 June
Singapore: 07:00 SGT, 13 June
Seoul: 08:00 KST, 13 June
Canberra: 09:00 AEST, 13 June
[Note: These timing details are related to live-streaming of New York City event]
Samsung in its bid to spark excitement among the fans, has released a countdown teaser video giving a sneak peek on the upcoming flagship tablet series.
Going by the video, we are certain to expect the devices to feature top of the line specifications.
Samsung Galaxy Tablet S Series Specifications and Release Date: What We Know So Far
According to numerous reports, Samsung will announce 10.5-inch and 8.4-inch Galaxy Tablet S and might also unveil a monster 13.3-inch model as well.
All three devices are said to boast super AMOLED display having 2560 x 1600p resolutions and come loaded with the Android's latest KitKat OS powered by the company's in-house built Exynos 5420 series Octa-core processor, backed by Mali-T628 graphics engine, 3GB RAM and 32GB inbuilt memory, reported SamMobile.
That's not all; Samsung is also said to incorporate bio-metric technology based finger-print sensor (most likely on the home button), Ultra power saving battery mode, download booster which are found in the company's 2014 marquee smartphone Galaxy S5 and house two-cameras - a 8.0-megapixel primary camera on the rear side and a 2.0-megapixel camera on the front side.
Will there be a Surprise Launch of Samsung Galaxy S5 Prime/Galaxy F?
If company's official blog is to be believed, we might expect the GALAXY PREMIERE 2014 event to stand witness to the launch of a smartphone; probably the long rumored Galaxy S5 Prime/Galaxy F.
"If you take a look at the invitation for Samsung GALAXY PREMIERE 2014, there are two words that allow us to speculate about the event: 'Galaxy' and 'Tab into Color'. We speculate that we are going to see a mobile device that focuses on 'color.' Alright, that was a very safe and easy speculation... or was it? Guess we will have to just wait and see." said the blog. This ambiguous statement of the official Samsung website has indirectly hinted that the event might turn out to be launch pad for a new Galaxy series smartphone.
Galaxy F aka Galaxy S5 Prime is said to boast a 5.2-inch 2K (2560 x 1440p) display and run on the latest Android update v4.4.3 KitKat OS out-of-the box.
Other expected specifications include 3GB RAM, 32GB, 16.0-megapixel primary camera (with OIS, ISOCELL) and a 2.0-megapixel front camera and the phone is expected to come with two CPU variants – one with new Octa-core processor (Exynos 5430) with 2.1GHz quad-core Cortex A15 CPU and 1.5GHz quad-core Cortex A7 CPU backed by 600 MHz Mali T6XXX graphics engine and another variant with Snapdragon 805 series quad-core chipset with Adreno 420 graphics engine.
As of now, there is no writing on the stone to actually believe that we might witness the unveiling of a new Galaxy smartphone, we just have to wait for few more hours to get a clear picture.