Samsung confirmed on Thursday that it would unveil the much-awaited Galaxy Note 8 on August 23. And while we are getting closer to that date, a set of new renders of the upcoming handset has been leaked online, offering further evidence that the new phone will indeed be a stretched Galaxy S8.
The purported Galaxy Note 8 renders, obtained by BGR, are not official. However, they are claimed to be made by a third-party case manufacturer, which have access to genuine Galaxy Note 8 schematics leaked from the factory.
The new renders, which are said to be probably the best look at the Galaxy Note 8 so far, suggest that the phone will have an Infinity Display measuring 6.3 inches. There will be tiny bezels on the top and bottom with a slew of sensor above, including the front-facing camera, iris scanner, LED and a light sensor.
The details on the back are in line with recent rumours. The renders show that the Galaxy Note 8 will feature a rear dual-camera system, which will be separated from the fingerprint sensor by an LED flash/heart rate monitor.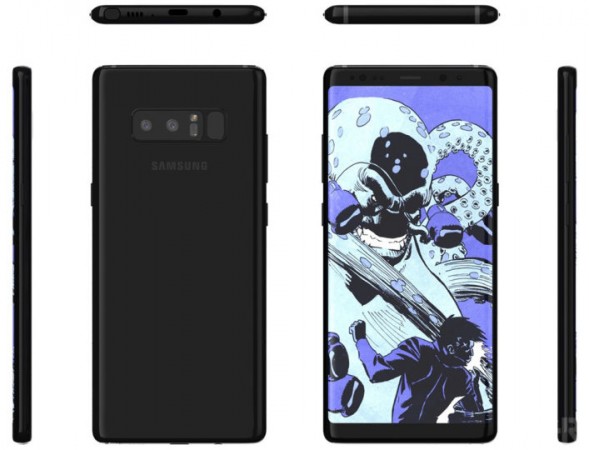 The edges of the Galaxy Note 8 seem to be rounded off like the ones on the Galaxy S8 and S8+. However, the renders suggest that the Note 8's design could be slightly boxier than the Galaxy S8 models.
Key features we know so far
Rumours are rife that the Galaxy Note 8 will be powered by the Exynos 8895 and Qualcomm Snapdragon 835 processor for different models, and will come with 6GB of RAM. While the phone is rumoured to have 64GB of internal storage with support for external expansion using microSD cards, it is also speculated to be offered with 128GB of native storage.
The Galaxy Note 8 is also expected to pack a 3,300 mAh battery while the iconic S Pen stylus is likely to remain mostly unchanged.
A secret weapon
Now if you think you know everything about the Galaxy Note 8, then it's time for some updates. A new report has indicated that Samsung's new phablet will come with a new Bixby accessory, which will set it apart from the Galaxy S8, despite sharing a similar form factor.
According to ETNews (via BGR), Samsung is working on a Bluetooth headset, which might be released together with the Galaxy Note 8 sometime in September. Although the headset is expected to be bundled with the new phone, Samsung is reportedly yet to decide how to sell it.
The existence of the Bluetooth headset was previously confirmed by a Samsung representative, who reportedly also said that the accessory was meant for easier interaction with Bixby. While the headset is expected to feature proprietary noise cancelling technology, other details of the product are not yet available.