Samsung's upcoming Galaxy Note 8 is just over a week away from its grand unveiling on August 23, but the excitement surrounding the device continues to rise with new details keep surfacing every other day. Although a lot of details about the handset have already been leaked by several sources, Samsung has not made anything official about the device, except for a video teaser it released on Monday.
As we wait for the South Korean tech giant to uncover the Galaxy Note 8, the device has apparently made an appearance on the GFXBench benchmarking website, revealing quite a few important details about the handset. If the new benchmark results are to believe, the Galaxy Note 8 will indeed be powered by the Exynos 8895 Octa core processor, clocking at 2.3GHz.
The benchmark results also confirmed that the Galaxy Note 8 will come with 6GB of RAM. According to SamMobile, the Note 8 will be Samsung's first flagship smartphone to offer 6GB of RAM across all markets.
The leaked details also confirmed that the Galaxy Note 8 will feature a 6.4-inch display with a resolution of 2960×1440 pixels. It was also mentioned that the phone's touchscreen will have support for at least five finger gestures.
Other details revealed by the GFXBench benchmark result include 64GB of internal storage, an ARM Mali-G71 graphics processor, an 11MP (4032 x 3024) rear camera and 7MP (3264 x 2448) front camera.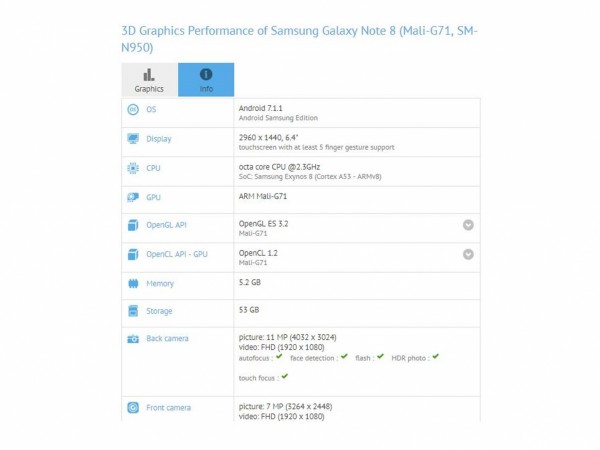 Rumours, however, suggest that the Galaxy Note 8 will sport dual rear cameras with each having a 12MP sensor and optical image stabilisation while its front camera will have an 8MP image sensor.
Samsung will announce the pricing and availability details of the Galaxy Note 8 at the launch event in New York on August 23. Some reports have claimed that the device may hit stores the next day itself, at least in the US.
A recent report from South Korea, however, said that the device may launch on September 15 in the country. The report, which apparently obtained Samsung's official launch schedule for the Galaxy Note 8, also said that a pre-activation period would start on September 11 for people who pre-order the device between September 1 and September 10.