All eyes are on Samsung's next-generation device dubbed as the Galaxy Note 8 not only because its release date is nearing but also because of the failure of its predecessor -- Galaxy Note 7 (it was discontinued and recalled). The company is tight-lipped on the handset but its launch is imminent as more and more details have been leaked over the last few weeks.
Several reports have claimed that the handset will sport an infinity display, and that's what case maker Olixar also concurred with through its case design. Now, SlashLeaks has published more Galaxy Note 8 case renders, this time by case maker Nillkin.
Also read: This futuristic holographic smartphone could belittle iPhone 8, Galaxy Note 8
Interestingly, the top bezel of the purported handset as seen in the new picture published on the website looks bigger than expected which would make many question its purpose. It is not known if the case maker has got the design wrong or Samsung has intentionally done it for a good reason.
Jonathan Endicott, CEO of case maker Slickwraps, had earlier posted a computer-aided drafting (CAD) of the purported Galaxy Note 8 on Twitter. It showed fingerprint sensor on the back near the rear camera indicating that Samsung might not introduce display-integrated fingerprint sensor on the Galaxy Note 8 contradicting earlier reports.
News.Naver also reported quoting a Samsung Electronics official that the company has decided not to install a display-integrated fingerprint sensor on Galaxy Note 8 due to various technical limitations such as security.
Samsung Galaxy Note 8 release date specifications
The South Korean technology giant hasn't officially revealed the release date of its upcoming Galaxy Note 8 but reports have claimed that it will be unveiled on August 26 before releasing into the market a few weeks later, which means we may have the first glimpse of the device in a little more than a month from now.
Samsung CEO DJ Kho has confirmed that the upcoming flagship will be announced next month but didn't disclose the exact date.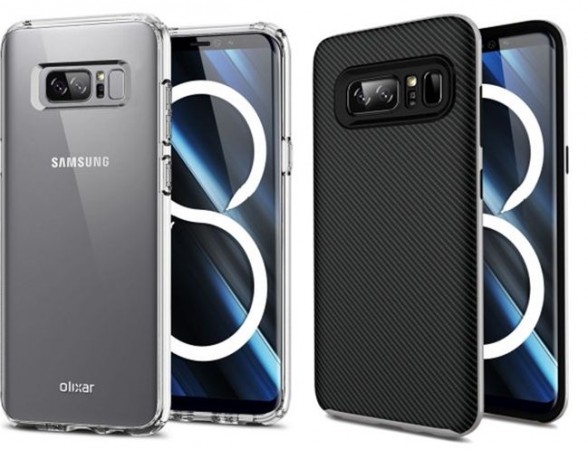 The Galaxy Note 8 is expected to feature a 6.3-inch infinity display, an iris scanner, and an AI-powered digital voice assistant Bixby. Under the hood, it is expected to feature a Qualcomm Snapdragon 836 processor, an Android 7.1 Nougat operating system, a 6GB RAM, a 64GB/128GB internal storage, a dual rear camera – 12MP wide-angle camera and a 13MP telephoto lens, and an autofocus front-snapper.