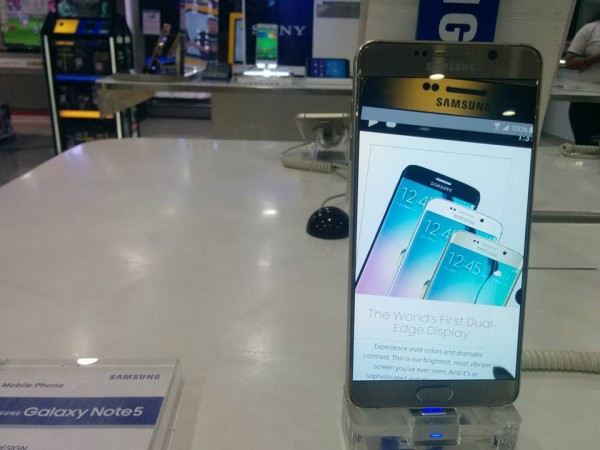 Samsung's next "big thing" dubbed as the Galaxy Note 7 is just a few days away before seeing the light of day. The much-awaited next-generation device will be announced seven days from now.
The South Korean technology giant is all set to unveil the Galaxy Note 7 at its "7 Unpacked" event to be held at 11 a.m. EDT in New York on Aug. 2. The company hasn't revealed the release date but it should happen a few days after the unveiling event if past tradition is any indication.
The Galaxy Note 7 is expected to have several feature upgrades over the Galaxy Note 5. However, those excited about iris scanner features can be left disappointed, as some leaked images obtained by Android Authority have exposed a few limitations.
The leaked iris scanner setup claimed that users have to hold their handsets about 10 inches to 14 inches away from their faces with screen facing them, and their eyes positioned on the screen. Clicking "Irises" that is placed below the fingerprints leads to a disclaimer that says the feature may not work properly if users wear glasses, contact lenses or have undergone eye surgeries or other major treatments on eyes. It went on to say that iris scanner may not work well under direct sunlight or low-light.
However, the Galaxy Note 7 is expected to feature both fingerprint sensor and iris scanner.
The device is expected to feature a 5.8-inch screen with 2,560x1,440 pixels, a Qualcomm Snapdragon 823 processor, a 64GB/128GB internal memory, a 10 nanometer 6GB RAM, a duel camera, and a 4,000mAh battery. It may come running Google's latest operating system Android 7.0 Nougat that has features like multi-window, direct reply notifications, Extra power efficiency, Google Assistant, Screen Zoom, Clear All, Data saver, VR interface, improved Java 8 language support, and Improved file browser among others.
A Samsung device with model number SM- N930R4, believed to be the Galaxy Note 7, has been spotted on Zauba, a website that tracks imports and exports in India, giving a hint that it will be released in India.