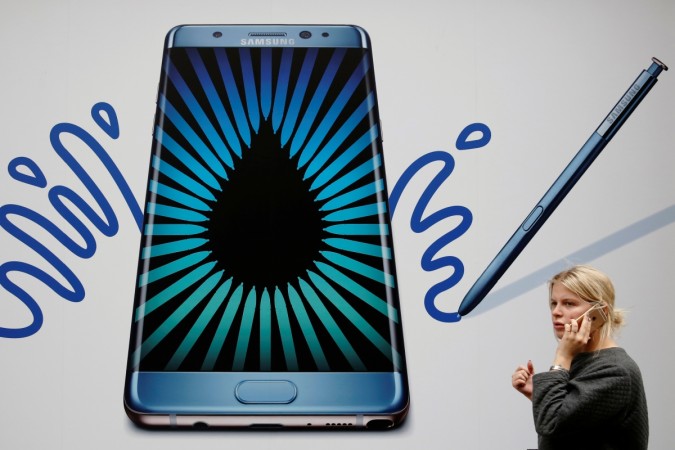 The infamous Samsung Galaxy Note 7 explosion instances now seem to have made their way to the popular Grand Theft Auto 5 (GTA 5) as well. A gaming tipster on YouTube has even detailed the usage of an exploding Samsung Galaxy Note 7 as an explosive with remote detonating capabilities. This mod is termed Samsung Galaxy Mod.
Here, YouTube tipster DoctorGTA via a new video demonstrates the availability of the Samsung Galaxy Note 7 as a plastic explosive fitted with a metal detonator. This smartphone cum explosive is found in the Ammunation shop which is a place where weapons such as guns are traded.
Also, the tipster in his video is shown using the Galaxy Note 7 as a bomb; the phone explodes after it hits the intended target. Check out the video below:
The tipster starts off by leaving for the Ammunation store to procure the Galaxy Note 7 (not the Galaxy S7). Once the in-game character reaches the store, guns and pistols are displayed; these can be purchased. Among these is the Samsung Galaxy Note 7.
The description of the smartphone reads "A plastic explosive charge fitted with a remote detonator. Can be thrown and then detonated or attached to a vehicle then detonated". Cost of this smartphone cum explosive is $360 and a 10% additional discount is applicable on the handset.
USP of this "weapon" is shown to be its ability to cause maximum damage to the target. Other parameters such as accuracy, range and fire rate come later.
As the in-game character has lots of currency, he goes on and purchases multiple Samsung Galaxy Note 7 units and once outside the shops, these handsets are fixed on to the outside of cars. After a certain time, these devices blow up thereby causing maximum damage to the cars and their occupants.
The tipster Doctor GTA uses the Galaxy Note 7 to wreak havoc in the city, and even killing people. In the video, the exploding Galaxy Note mod is used as a companion for destruction.
In summary, it would do a world of good to consider the above as warning balls as far as reality is concerned. Actually, Samsung has even resorted to a global recall of Galaxy Note 7's with faulty batteries; users of such handsets are being offered fresh replacements/refunds. The South Korean consumer electronics giant has also resumed sales of the Galaxy Note 7 (corrected and fresh devices) units in various countries of the world.