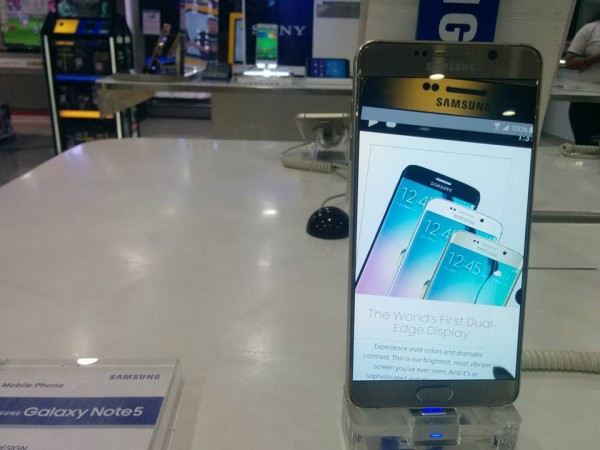 Samsung is tight-lipped on its upcoming "next big thing," dubbed the Galaxy Note 6, but it is almost certain it will be released in the third quarter of this year. It is expected to be a game-changer for the company as reponse to last year's Note device was not as good as its predecessors.
The South Korean technology giant is expected to release the Galaxy Note 6 in August, as the Galaxy Note 5 will complete a year cycle in the market by then. There are also reports that the device could come as early as mid-July but nothing is certain at the moment with Samsung yet to reveal the release date.
Samsung Galaxy Note 6 is expected to come with several feature upgrades over its predecessor, but let's look at the top four features expected in the device in the run-up to its release:
Samsung Focus
SamMobile has reported that Samsung is working on a feature called Samsung Focus, similar to BlackBerry Hub app that came with the BlackBerry 10 operating system. The feature will bring several functions like email, calendar, contacts and memos in one place. Samsung hasn't confirmed if it will be introduced in the upcoming next-generation device, but it won't come as a surprise if it is seen in the handset.
Processor
Recently released flagsgip devices like Samsung Galaxy S7, HTC 10 and Xiaomi Mi 5 flaunt the latest operating system and the Qualcomm Snapdragon 820 SoC, but reports have claimed that the upcoming Galaxy Note 6 will be powered by an upgraded version, the Qualcomm Snapdragon 823.
Foldable S Pen
Patently Mobile has reported that the South Korean electronics giant has filed a patent on S Pen with dual functionality, and it ahs been published by the U.S. Patent & Trademark Office. The patent is about a mechanism where the S Pen can be pulled out, bent halfway and locked to turn it into a stand. Samsung hasn't revealed when it will introduced, but several reports have suggested it could be seen in the Galaxy Note 5.
Camera
Samsung stopped its trend of increasing camera mega-pixel and concentrated on the sensors for better-quality pictures in the recently released Galaxy S7. The Galaxy Note 6 is expected to see something similar. It is expected to have a 12MP main camera with features like f/1.7 aperture, 26mm, OIS, 1/2.6" sensor size and 1.4 µm pixel size, and a 5MP front-snapper with f/1.7 aperture.
The Galaxy Note 6 is also expected to come with an expandable memory slot unlike its predecessor. According to reports, the device will sport a 5.8-inch display with 2,560x1,440 pixels, and come come packed with 64GB/128GB internal memory, and 6GB RAM.