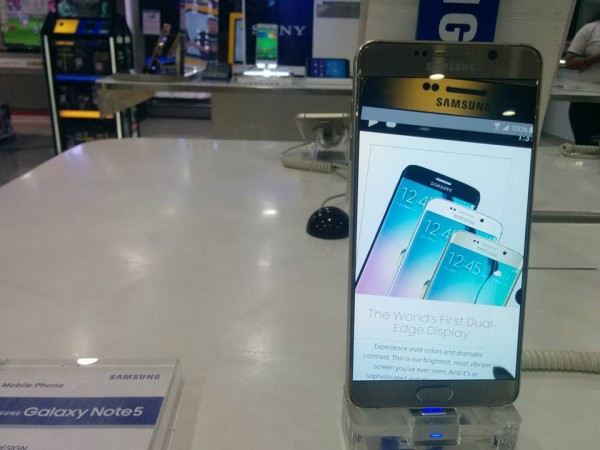 Samsung is maintaining utmost secrecy on its upcoming "next big thing" dubbed as the Galaxy Note 6, however, that hasn't stopped leakage of details. It has now emerged that Samsung might introduce its just launched next-generation memory technology in the Galaxy Note 5 successor.
All eyes are on the upcoming Galaxy Note 6 following the success of its predecessors. The South Korean electronics giant is expected to release the device in August, as the Galaxy Note 5 will complete one year cycle in the market by this time. It is also reported that the handset could be unveiled in mid-July, but nothing is confirmed at the moment.
Samsung hasn't opened up on the Galaxy Note 6 but enough hints have been given on features one could expect in the device. The company on Thursday launched 10 nanometer 6GB LPDDR4 DRAM in China and this next-generation memory technology could be seen in the upcoming device, according to TheNextRex (via PhoneArena).
The website claimed that the newly launched 10nm 6GB LPDDR4 DRAM will be much more efficient than other 6GB RAM seen in a few mobile phones today as it is manufactured on a small lithography.
"In the ever-changing mobile market, innovation is to promote the sustainable development of the same power. Samsung will through continuous technological innovation, to maintain differentiated products and services, leading China mobile market growth and leap," TheNextRex quoted Choi, Samsung CEO for its semiconductor and display business, as saying.
According to reports that have surfaced so far, the Galaxy Note 6 may have a 5.8-inch display with 2,560x1,440 pixels, Qualcomm Snapdragon 823 processor, 64GB/128GB internal memory with expandable memory option, a 6GB RAM, and a 4,000mAh battery. It is also expected to mount the same camera seen in the recently released Galaxy S7 -- a 12MP main camera with features like f/1.7 aperture, 26mm, OIS, 1/2.6" sensor size and 1.4 µm pixel size, and a 5MP front-snapper with f/1.7 aperture.