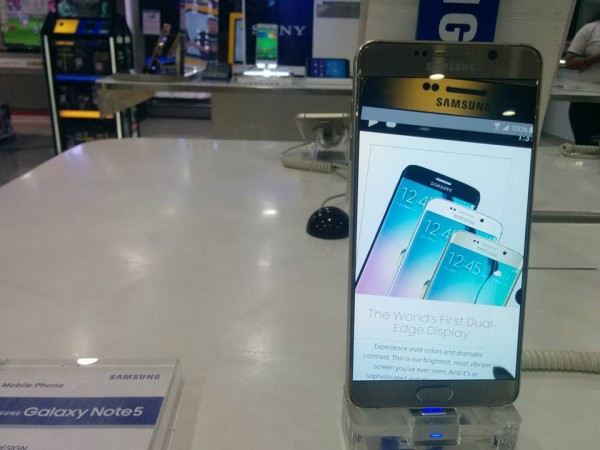 Focus is on the Galaxy S7 and Galaxy S7 edge at the moment as its release is around the corner. But one can safely say Samsung's biggest thing to happen this year is the upcoming Galaxy Note 6.
The South Korean electronics giant is tight-lipped on the Galaxy Note 6, but it is expected to be launched in August like its predecessor, the Galaxy Note 5. The device is also very likely to be launched along with the Galaxy S7 edge+.
Even as the Note fans wait for more details of the Galaxy Note 6 to surface, here are five things that you may want to know:
Last device from Note series
Samsung is known more for its Note series than the S series. However, reliable sources said that the upcoming Galaxy Note 6 could be the last device from the Note series. The claim of discontinuing the plablet seems to hold waters as it have almost synonymous with the Galaxy S devices, except for its stylus.
Camera megapixel downgrade
Samsung is known for increasing camera megapixel with every iteration, but it may not be the case with the upcoming device. A report by ValueWalk has claimed that the company will decrease camera megapixel of the galaxy Note 6 and introduce Vivid Photo or Timeless Photo technology instead.
Foldable S Pen
There are possibilities of Samsung introducing a foldable S Pen, wherein users can pull the stylus, bend it halfway and lock it to turn it into a stand. The U.S. Patent & Trademark Office published a new patent application by Samsung earlier this year about an S Pen with dual functionality, reported Patently Mobile. However, it is to be seen if the feature is introduced in the upcoming Note device.
MicroSD card slot
Samsung discarded microSD card slot in the Galaxy Note 5 that was released last year. It created a furore among Samsung fans and gadget lover, as many use Note devices to store data. Now, reports have emerged that the upcoming Galaxy Note 6 will have a microSD card slot.
Display
It is reported that the device will sport a 5.7-inch display. Interestingly, last year's Galaxy S6 edge+ and galaxy Note 5 have the same screen size. It is to be seen if the upcoming Galaxy S7 edge+ sports the same screen size as its predecessor, the Galaxy S6 edge+, but it will be interesting if it has bigger screen then the Galaxy Note 6 as the Note series apart from the S series all this years is its bigger screen and stylus.