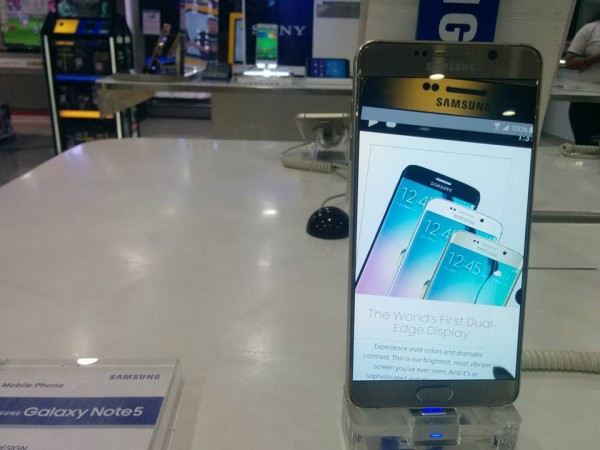 Samsung is known more for its Note series than the S series devices. But 2016 was a disappointment for Note fans, as the Galaxy Note 5 was very similar to the Galaxy S6 in specifications – the most noticeable difference was screen size. So, gadget lovers will expect big from the upcoming Samsung Galaxy Note 6.
The Galaxy S7 has hogged all the limelight at the moment with its unveiling event just a few weeks away, but it may be noted that the Galaxy Note 6 is also not very far away. The South Korean electronics giant is tight-lipped on its upcoming Note device, but its release date should fall in the Q3, perhaps in August, like its predecessor.
Nothing much has been leaked on the Galaxy Note 6, but a report by ValueWalk has claimed that it might sport a 4K resolution display, the technology being introduced in Sony Xperia Z5 Premium, and decrease camera megapixel and include Vivid Photo or Timeless Photo technology.
There may be many feature upgrades that fans may want to see in the Galaxy Note 5 successor, but there are at least four specifications that need improvement.
Camera: Samsung has the tradition of increasing camera pixels, but most people know that it is not the pixel but the sensor that determine the quality of a picture. So, the South Korean company will be expected to put a halt to its "pixel increase trend" for once and improve camera sensor instead.
Battery: Samsung Note devices have big display coupled with high screen resolution. The Galaxy Note 5 has a 3,000mAh battery but it's not powerful enough considering state-of-art technology it boasted of. In fact, there are several devices with a 4,000mAh battery. So, Samsung fans will expect the Galaxy Note 6 to be powered by a strong battery.
MicroSD Card: The Note devices are not smartphones. They are plablets that people use for multiple purposes, which means users will need more memory. Samsung surprised everyone last year by discarding microSD card slot and it left many disappointed. The feature is expected to be brought back to the upcoming Note 6.
3D Touch: Apple introduced 3D Touch technology to its iPhone 6s last year, enabling users to access several functions by pressing the screen. Samsung fans will also expect a similar feature in the Galaxy Note 6.