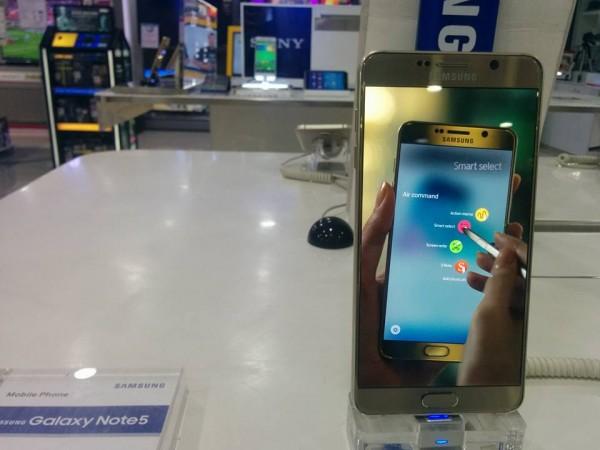 Samsung's upcoming next-generation device dubbed as the Galaxy Note 6 could be a game-changer for the company if reports are anything to go by. The device is expected to be not just an upgraded version of its predecessor the Galaxy Note 5, but could come with a few unique features.
The South Korean electronics giant released the Galaxy Note 5 in August last year, so Samsung fans will expect its successor to be released at around this time. However, there are also reports that it could be unveiled as early as mid-July though this isn't not confirmed.
According to reports that have surfaced over the last few months, the Samsung Galaxy Note 6 will have at least four features that are not seen in its predecessors.
Iris Scanner
A report by GalaxyClub (via SamMobile) has claimed that Samsung has "filed for registering the Samsung Iris and Samsung Eyeprint trademarks in the European Union," giving a clear hint that the feature could be seen in the upcoming Galaxy Note 6.
The report consolidates earlier speculations that Samsung could introduce the feature in the Galaxy Note 6 after a total of 200 units of "iris cam," described as parts for Samsung Mobile phone, were spotted on Zauba, a website that keeps track of imports and exports in India.
Foldable S Pen:
The U.S. Patent & Trademark Office has published a patent on S Pen with dual functionality filed by Apple, according to Patently Mobile. It is about a mechanism where a user can pull out the S Pen, bend it halfway and lock it to turn it into a stand. The patent application was filed in the third quarter of 2015, which means the technology could have been developed by now for use. Samsung is tight-lipped on it but it is speculated that the feature could be introduced in the Galaxy Note 6.
Samsung Focus
Samsung is working on a feature called Samsung Focus, similar to BlackBerry Hub app seen in the BlackBerry 10 operating system, and it could be used in the upcoming Galaxy Note 6, according to a report by SamMobile. The new feature will bring several functions like email, calendar, contacts and memos in the same interface.
RAM
There are several devices that come packed with 6GB RAM but the one expected in the Galaxy Note 6 is said to be much more powerful. According to TheNextRex (via PhoneArena), Samsung has launched 10 nanometer 6GB LPDDR4 DRAM in China, a next-generation memory technology, manufactured on a small lithography, and the upcoming Galaxy Note 6 could come with this feature.
It is reported that the Galaxy Note 6 will sport a 5.8-inch display with 2,560x1,440 pixels, powered by a Qualcomm Snapdragon 823 processor, and come packed with a 64GB/128GB internal memory, and a 6GB RAM. It is expected to mount the same camera seen in the Galaxy S7 -- 12MP main camera with features like f/1.7 aperture, 26mm, OIS, 1/2.6" sensor size and 1.4 µm pixel size, and a 5MP front-snapper with f/1.7 aperture.