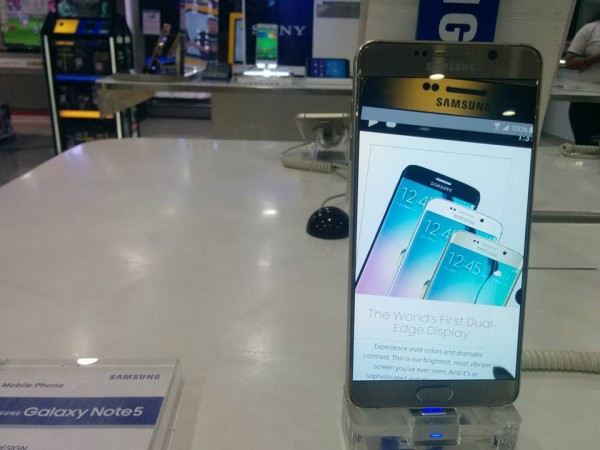 Talks of Samsung Galaxy Note 6 have started even before the release of the Galaxy S7 and Galaxy S7 edge. It is natural for the simple reason that devices from the Note series have been very popular with Samsung fans and gadget lovers alike ever since it was introduced. Hence, expectations from the upcoming Galaxy Note 6 are sky-high.
The South Korean electronics giant is mum on its next iteration from the Note series, as its focus is currently on the release of the Galaxy S7 and S7 edge. The Note 6 is expected to be launched in August like its predecessor the Galaxy Note 5, and most likely along with the Galaxy S7 edge+. More details on the device may emerge after the Mobile World Congress 2016 (MWC 2016).
At the moment, what many will be curious to know about the Galaxy Note 6 is its screen size and design. The Galaxy S6 edge+ and Galaxy Note 5 have a 5.7-inch Super AMOLED capacitive touchscreen with 1,440x2,560 pixels (518 ppi pixel density). The upcoming Galaxy S7 edge+ too may sport the same screen size, as the Galaxy S7 edge is expected to have a 5.5-inch screen.
Now, the question is whether the Galaxy Note 6 will sport the same screen size as the Note 5 and Galaxy S6 edge+, or even the Galaxy S7 edge+.
It is a known fact that Samsung fans didn't take Galaxy Note 5's similarity with the Galaxy S6 edge+ too well. There was no notable difference between the two devices except for the stylus seen in the Note 5. That left many fans disappointed and so, the fate of the upcoming Galaxy Note 6 may lie on how different it turns out to be from the rest of Samsung's premium devices.
The Galaxy Note 6 could sport a 5.7-inch screen, or even a 6-inch, but nothing about it is certain at the moment. What fans will look forward to is something difference, be it specifications or design. The screen size might not matter much here as a 5.5-inch or a 5.7-inch is big enough.