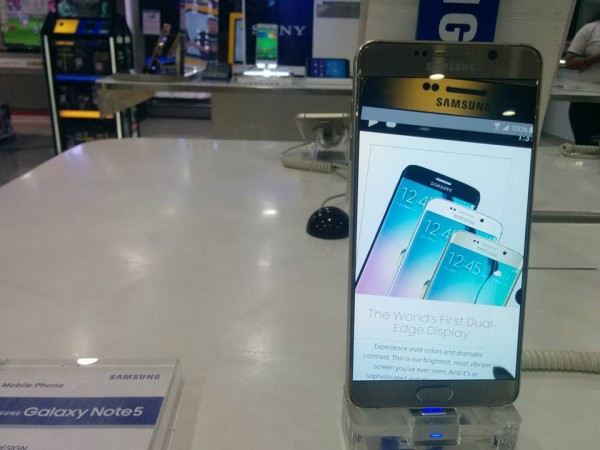 Samsung's upcoming next-generation device dubbed as the Galaxy Note 6 is just a few months away from launch. More details of the handset have started surfacing with its release date drawing close, and now we have learned that it will have a battery much superior to the one seen in the Galaxy Note 5.
The South Korean electronics giant is testing two variants of Galaxy Note 6, one with a flat display and the other with a curved screen, according to Dutch website GSM Helpdesk (via Phone Arena). The variants are expected to share the same specifications, including screen size and resolution.
The report went on to say that the upcoming Note device will be powered by a 4,000mAh battery, which is much superior to 3,000mAh battery seen in the Galaxy Note 5. Short battery life is one feature that Note series users have been complaining about for quite sometime now. Big screen and high resolution drain battery faster.
The Galaxy Note 6 is expected to be released in August by which time its predecessor completes a year cycle in the market. It is also reported that the device could come as early as mid-July but nothing about the handset is confirmed at the moment.
According to reports that have surfaced so far, the device is expected to sport a 5.8-inch display with 2,560x1,440 pixels, and come with IP68-certification (waterproof), a feature that hasn't been introduced to the Note device till date. Under the hood, it is expected to have a 2.6GHz Qualcomm Snapdragon 823 processor, Android N, a 64GB/128GB internal memory, a 6GB RAM, and camera similar to the one in the Galaxy S7.
The Galaxy S7 and Galaxy S7 edge houses a 12MP main camera with features like f/1.7 aperture, 26mm, OIS, 1/2.6" sensor size, 1.4 µm pixel size and 9MP image recording, and a 5MP front-snapper with f/1.7 aperture.