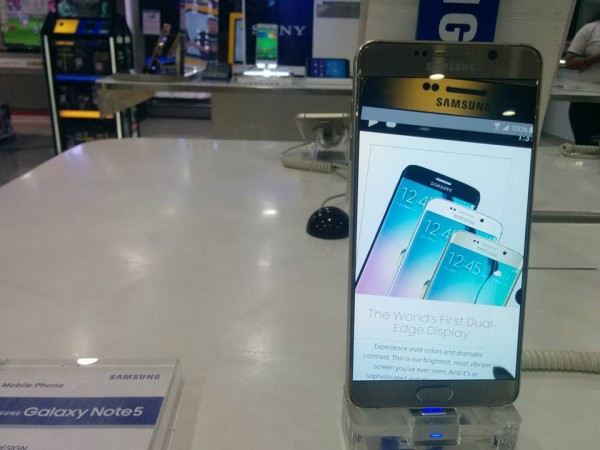 It is becoming increasingly difficult to differentiate Samsung's flagship Galaxy Note devices with that of the ones from S series by a quick glance as these handsets have similar screen sizes and design. The most noticeable difference between these devices is the S Pen (Stylus Pen) seen in the Note series, and now, speculations are doing the rounds that Samsung's upcoming Galaxy Note 6 may come with a unique feature not seen in its predecessors.
The U.S. Patent & Trademark Office published a new patent application by Samsung earlier this year that reveals an S Pen with dual functionality, reported Patently Mobile. According to the patent, users can pull the S Pen, bend it halfway and lock it to turn it into a stand.
Users can do several activities, including watching movies, without hand support once the S Pen is locked at the joint. It can be straightened and pushed back to its groove after use.
Samsung may or may not introduce this feature in its upcoming Galaxy Note 6, but reports claim that it could be seen in the device as the patent was filed last year, which means the company has enough time to develop the technology.
The South Korean electronics giant is tight-lipped on its upcoming flagship device from Note series, but several details have been leaked over the last few weeks even before the release of the Galaxy S7. The Galaxy Note 6 is expected to be launched in August as its predecessor, the Galaxy Note 5, will complete one-year-cycle by this time.
According to a report by ValueWalk, Samsung Galaxy Note 6 will sport a 4K resolution display that is seen in Sony Xperia Z5 Premium, and decrease camera megapixel while introducing Vivid Photo or Timeless Photo technology. There are also reports that Samsung will bring back microSD card feature that was discarded in the Galaxy Note 5.
However, one has to take the features of the Galaxy Note 6 with a pinch of salt, as the device is still months away before being launched and Samsung is yet to reveal any detail about it.