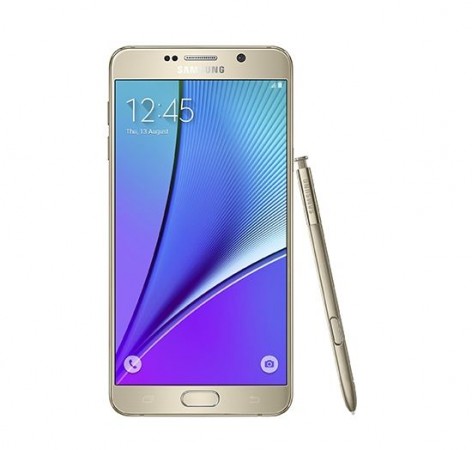 Reigning smartphone leader Samsung unveiled the fifth generation Galaxy Note in New York City on Thursday, 13 August.
The initial reaction from tech critics and fans have been mixed. While some are happy with the Galaxy Note 5's premium metal body, single-click ejectable S-Pen Stylus, 4GB LPDDR 4 series RAM, fastwire-less charging capabilities, a few were disappointed to know that the new phone's battery capacity has been reduced and two key features like micro-SD slot and IR Blaster, which were available in Note 4, have been ditched.
To get a clear perspective of the two Galaxy Note siblings, we have done a quick specification rundown of Galaxy Note 5 and its predecessor, Galaxy Note 4.
Display:
Samsung's Note 4 and Note 5 phablets flaunt a 5.7-inch Quad HD Super AMOLED display with a staggering pixel density of 515 ppi (pixels per inch) and also boast the same Gorilla Glass 4 shield on the screen
Build quality:
In 2014 Samsung announced Galaxy Note 4 with metal-frame, but kept the visually un-appealing faux leather body, seen in the Note 3. This year, Samsung has replicated the 2015 flagship phone Galaxy S6's design principle by incorporating more metal in Galaxy Note 5. It boasts airplane grade metal based crafted body and also comes with an additional protective Gorilla Glass 4 shield.
Dimensions:
Though the company has used copious amount of metal in the new Galaxy Note 5, it is still slimmer and sleeker compared than its faux-leather based predecessor, Note 4. The former weighs 171g, whereas the latter weighs 176g.
Galaxy Note 5 measures 153.2 x 76.1 x 7.6 mm in dimensions, whereas Galaxy Note 4 is tad big and bulky. It measures 153.5 x 78.6 x 8.5 mm mm in dimensions
Processor, RAM and Storage:
Galaxy Note 5 comes with the Samsung's proprietary 14-namometer class based 64-bit Octa-core Exynos 7420 CPU (Quad-core 1.5 GHz Cortex-A53 & Quad-core 2.1 GHz Cortex-A57), the very same chipset found in the Galaxy S6 series.
Key inclusion is LPDDR 4 series 4GB RAM.
What are the benefits of LPDDR4 over LPDDR3?
For starters, LPDDR4 RAM is much superior in many aspects when compared to LPDDR3 series RAM found in the current crop of top-end smartphones. The former consumes less power to perform operations on smartphone.
It can also work with speed up to 32GB/s, which is double the speed of its predecessor that houses LPDDR3.
To sum things up, OnePlus 2 owners will be able enjoy faster app loading, quick swapping among multiple apps, smooth working conditions, less (or no) lag while playing high intensity games and a longer battery life.
Though many have appreciated Samsung for using the advanced LPDDR 4 series RAM, they have panned the company for letting microSD card option go. Galaxy Note 5 will now come in only two models -- 32GB and 64GB.
On the other hand, Galaxy Note 4 came in two processor variants. One with 2.7GHz Snapdragon 805 series processor, bound for developed markets, and another with an Exynos 5433 series Octa-core CPU (1.9GHz quad-core + 1.3GHz quad-core +ARM Mali T760 GPU). It was backed by 3GB LPDDR 3 series RAM and came with 32GB storage with option of expansion up to 128GB.
Camera:
Galaxy Note 4 houses a 16.0-megapixel camera with auto-focus and smart OIS (Optimised Image Stabilisation) and a 3.7-megapixel snapper on the front with F1.0 aperture, Wide selfie feature and many more value-added photography enriching apps.
Galaxy Note 5 comes with same camera as in the Galaxy S6 (touted to be the best camera smartphone in the industry). It boasts 16mp camera with OIS (Optical Image Stabiliser) with Quick Launch, Tracking AF, Auto Real-time HDR(Front & Rear) , F1.9, Low Light Video(Front & Rear), High Clear Zoom, IR Detect White Balance, Virtual Shot, Slow Motion, Fast Motion, Pro Mode and Selective Focus.
And on the front, it houses an impressive 5mp snapper with, f/1.9 aperture and full HD video recording capability.
Mobile Operating System:
With the latest Android v5.1.1 Lollipop OS update already released to Galaxy Note 4 across the world, there is no added advantage in owning the new Galaxy Note 4 apart from new TouchWiz interface.
Battery:
Galaxy Note 5 houses 3000 mAh battery, 220 mAh less than its predecessor. But the use of new Exynos 7420 series Octa-core SoC (System on Chip) and LPDDR 4 series RAM, the power utilization among the apps will be optimised so that there will be enough juice left in the battery to last at least 10 hours.
It also boasts wired and wireless charging technology and the 'embedded wireless charging technology' that is compatible with virtually any wireless pad available in the market. With wired charging, both devices can be fully charged in approximately 90 minutes, and through Samsung's latest wireless charger, they can be fully charged in approximately 120 minutes.
Also Read: Galaxy Note 5, S6 Edge+ Specifications, Availability Details
Honorable mention:
Samsung Pay:
It is protected by Samsung's KNOX, fingerprint verification and digital tokenisation. "Samsung Pay works with both MST (Magnetic Secure Transmission) and NFC (Near Field Communication) technologies, bringing consumers closer than ever to a world without wallets," says the company
Value-added features of Galaxy Note 5:
Full-metal body
New quick eject-able S-Pen feature
Samsung-Pay
Super-fast wireless charging
Here is a Break-down of Specifications of Samsung Galaxy Note 4 and Galaxy Note 5:
Model
Samsung Galaxy Note 4
Samsung Galaxy Note 5
Display
5.7-inch quad HD (2560x1440p) super AMOLED screen

Pixel Density: 515 ppi (pixels per inch)

5.7-inch WQHD (2560x1440p) super AMOLED screen

Pixel density: 515 ppi (pixels per inch)

OS
Android 5.1.1 Lollipop
Android 5.1.1 Lollipop
Processor
2.7GHz Snapdragon 805 quad-core processor / Exynos 5433 octa-core processor (1.9GHz quad-core+1.3GHz quad-core), depending upon the region.
14-namometer class 64-bit Octa-core Exynos 7420 CPU (Quad-core 1.5 GHz Cortex-A53 & Quad-core 2.1 GHz Cortex-A57)
GPU
Adreno 420 / ARM Mali T760
Mali-T760
RAM
3GB
4GB LPDDR 4 series
Memory
32GB, + 64GB via microSD
32GB/64GB
Camera

Main: 16.0-megapixel camera with Auto-focus and smart OIS (Optimized Image Stabilization)
Front: 3.7-megapixel camera with F1.0 aperture with Wide selfie feature ( similar to panorama feature)

Main: 16mp camera (also expected to come include OIS (Optical Image Stabilizer) with Quick Launch, Tracking AF, Auto Real-time HDR(Front & Rear) , F1.9, Low Light Video(Front & Rear), High Clear Zoom, IR Detect White Balance, Virtual Shot, Slow Motion, Fast Motion, Pro Mode, Selective Focus)
Front: 5mp camera with full HD video recording capability

Network
3G & 4G (LTE Cat 4 150/50Mbps) or 4G (LTE Cat 6 300/50Mbps) depending on the markets
4G-LTE (Cat. 9 or Cat. 6) depending on the regional network
Battery
3,220 mAh with super-fast charging capability which can power the phone to 50-percent in just 30 minutes
3,000mAh, Fast Charging both on wired and wireless

Wireless Charging compatible with WPC and PMA

Add-ons
Enhanced S-Pen features, Finger print sensor, Download booster, 4 micro-phones, Heart-rate monitor, UV sensor, Bluetooth v4.1, Wi-Fi (802.11 a/b/g/n/ac (HT80) MIMO PCIe ), USB 2.0, IR LED, MHL 3.0
Finger print-sensor, new advanced S-Pen stylus, WiFi 802.11 a/b/g/n/ac, MIMO(2x2),
Bluetooth v 4.2 LE, ANT+, USB 2.0, NFC,
Location
Dimensions
153.5 x 78.6 x 8.5 mm
153.2 x 76.1 x 7.6 mm
Weight
176 g
171 g