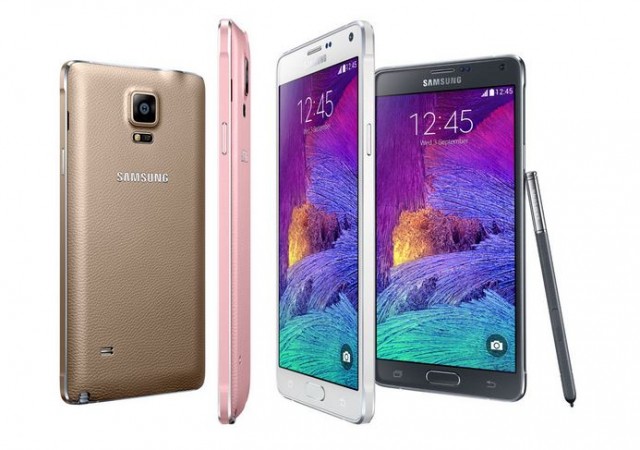 All eyes will be on the upcoming Samsung Galaxy Note 5 from now on as the Galaxy S6 has been launched. The South Korean electronics giant hasn't revealed the release date of its Galaxy Note 4 successor but latest report has hinted at an early launch.
It was earlier reported that the Samsung Galaxy Note 5 might be released in the month of September, as its predecessor will complete a year circle in the market by that time, but Korean news site Daum has reported (translated via Google Translate) that the device could come as early as August.
Meanwhile, the Galaxy Note 5 is expected to have good specifications, boasting of features like Qualcomm Snapdragon 810 processor, 4GB RAM and Ultra HD screen resolution. Samsung's executive vice president Roh Tae-moon had hinted recently that Note devices could come with curved display like the Galaxy S6 Edge.
There are conflicting reports on the features of the Samsung Galaxy Note 5. According to Venture Capital Post, the upcoming Note device is expected to come with features like Retina scanner, fingerprint scanner, wireless charging, scratch and dust resistant, water resistant, health conscious, and Heart Rate monitor, 6-inch Ultra HD 4K Display, and Snapdragon 810 processor or Exynos 7420 SoC processor.
On the other hand, 4K website reported that the device might be powered by Exynos 7420 SoC processor, come packed with 128GB internal memory with microSD card up to 128GB and house an 18MP camera with powerful sensor and 6 or 7MP front snapper, and 4K ultra HD video shooting ability.
According to a concept design created by Maryum Ayub (reported by Concept Phone), the Galaxy Note 5 has a 5.9 inch 4K Super AMOLED screen protected by Gorilla Glass 5, powered by Exynos 3.2 GHz octa core processor, and run on Android 6.0. It also housed a 19 MP main camera with optical image stabilization (OIS) and a secondary 4.7 MP front snapper, and come packed with 32/64 GB internal memory and 4 GB RAM.