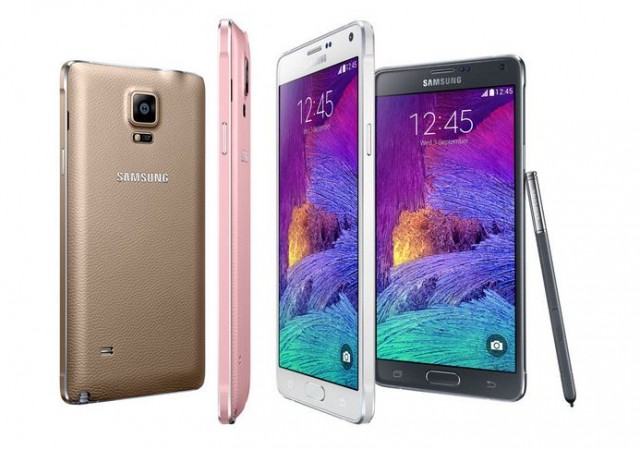 Hype around Samsung's next-generation device, dubbed as the Galaxy Note 5, has not died down despite the release date of the Galaxy S6 just a few weeks away, the reason being stupendous success of the Note series over the years.
The Samsung Galaxy Note 5 is expected to be announced in September this year by the time its predecessor completes one-year cycle. It is expected to have significant feature upgrades like other devices from the Note series.
Samsung Galaxy S series took a dip after the trend-setting Galaxy S3 but its successors – S4 and S5 – turned out to be more of disappointment than pleasing Samsung fans, as they lack innovation and significant change. A huge fall in the earnings of Samsung in the second half of 2014 from its mobile phone sector reflected poor business from Galaxy S series. Now, all eyes are on the Galaxy S6, which is expected to be released at the Mobile World Conference 2015 (MWC 2015) in March, to woo back its fans.
On the other hand, Samsung has not failed to please its fans when it comes to Note series, as it keeps launching one device after another with big upgrades. Its latest Note device, the Galaxy Note 4, has been received well, as it boasts of many good features, including excellent display clarity with best screen resolution.
The upcoming Galaxy Note 5 is also expected to boast of something new and much superior like its predecessors. Several reports suggested that the device would sport a 5.9-inch display and Ultra HD screen resolution.
The device is being spotted with a 5.9-inch 4K Super AMOLED screen protected by Gorilla Glass 5, all metal and curved body, Exynos octa core processor clocking at 3.2 GHz, Android 6.0 operating system, 32/64GB of internal memory and 4GB RAM, and 19MP main camera with optical image stabilization (OIS) and 4.7MP front snapper, according to concept design of the Galaxy Note 5 created by Maryum Ayub reported by Concept Phones.
Specifications mentioned in the concept design are not confirmed and Samsung is very unlikely to reveal any detail about its device until it is unveiled but it won't come as a surprise if these features are seen when the device is launched, as history says that there could be chances of mobile phone makers making a note of features mentioned in concept designs and videos.