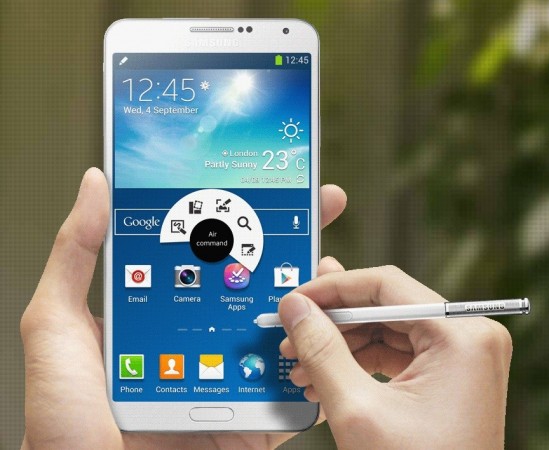 Samsung Electronics has released a few high-end devices from Galaxy S and Note series over the last few years, managing to have a good grip of the smartphone market, but it seems to have reached a boring stage as far as its design is concerned. There are speculations on whether the smartphone maker will give a new look to its upcoming device.
Several reports have claimed that Samsung might unveil Galaxy Note 4 in the second quarter of 2014, probably at this year's IFA event in September like its predecessor Note 3.
The South Korean electronics giant has managed to control the smartphone market with its slew of big screen devices, but has failed to bring big change to its design since Galaxy S3.
In what could turn boring for gadget lovers who love change, it has to be noted that Samsung hasn't released a smartphone with new look since 2012. Devices like Galaxy Note 2, Note 3, Galaxy S4 and the recently unveiled S5 wear a similar look - the look popularized by Galaxy S3 that received about nine million pre-orders and sold 50 million in one year. These flagship devices have upgrades over its predecessors, but only slight changes were seen in its design.
Galaxy S5, which was announced in February and is releasing this Friday, is not very different from its predecessors with regard to its design. Except for a faux leather cover, even Note phones look similar to Galaxy S3 and its successors.
Going by the past trend, Samsung Galaxy Note 4 is also expected to have a similar design to that of the recently announced S5, though it may do away with the faux leather cover following not so positive response from the consumers. Speculations are rife that the South Korean company may think of changing the looks of its future smartphones, with its upcoming Note 4.
It is reported that Samsung Galaxy Note 4 will sport an AMOLED Ultra HD, 3480 x 2160 pixel display with an advanced handwriting recognition feature - S Pen stylus and 20MP camera. It is expected to be powered by a 64-bit processor and run on Android 4.5 Lollypop, a new OS that will be released by Google this year. The device will also have advanced hardware design - 20 nm 4 GB DDR3 DRAM, and have a 3,600 to 3,800 mAh battery, according to the TheGalaxyNote4 website.
Photo credit: Samsung Galaxy Note 3 official site
(Edited by Anu James)