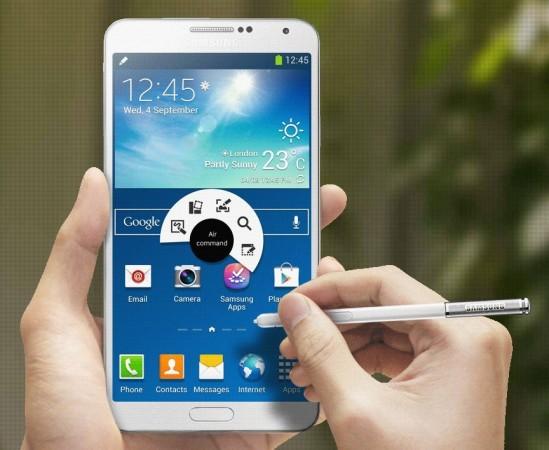 Samsung Electronics' flagship smartphone, Galaxy S5, which hits the stores on Friday, disappointed many fans when it was unveiled in February, not because it is a device without upgrades, but because it failed to have many of the speculated features. The much hyped Galaxy Note 4 has also gained momentum over the last few weeks with impressive specifications, but it is not sure if it will also end up like Galaxy S5 when it is released.
Galaxy S5, which was unveiled at the MWC 2014 on 24 February and released on 11 April, did come with upgrades over its predecessor, but failed to impress the gadget lovers after many of the speculated features in display, processor and design were not seen in the device.
Interestingly, the hype around Samsung Galaxy Note 4 has been great with the device expected to have a remarkable upgrade over its predecessor. It is expected to sport an AMOLED Ultra HD, 3480 x 2160 pixel display with an advanced handwriting recognition feature called S Pen stylus and would have water and dust resistant feature as seen in Galaxy S5.
The device is also expected to be powered by a 64-bit processor and run on Android 4.5 Lollypop, a new OS to be released by Google this year. South Korean media house ETNews reported that Samsung had begun developing a 20MP camera to be released by the second half of 2014, hinting that it would be introduced in Galaxy Note 4. It is also expected to have advanced hardware design - 20 nm 4 GB DDR3 DRAM and a 3,600 to 3,800 mAh battery, according to TheGalaxyNote4.
Samsung is planning to satisfy its customers with upgraded specifications, an official from Samsung told The Korea Times. The official went on to say that the Galaxy Note 4 will support faster LTE-A wireless technology, with 3G and LTE for emerging markets, powered by either a 32-bit or a 64-bit processing technology depending on the market situation, and come in variants that will support both high-definition and ultra high-definition.
Galaxy Note series lovers will be excited on reading the expected features that have appeared on several websites, but it is not sure if they will be seen in the device when it is announced. The device is expected to be unveiled at the annual IFA trade fair in Berlin, Germany in September this year.
Photo credit: Screenshot/ Samsung official
(Ed:AJ)