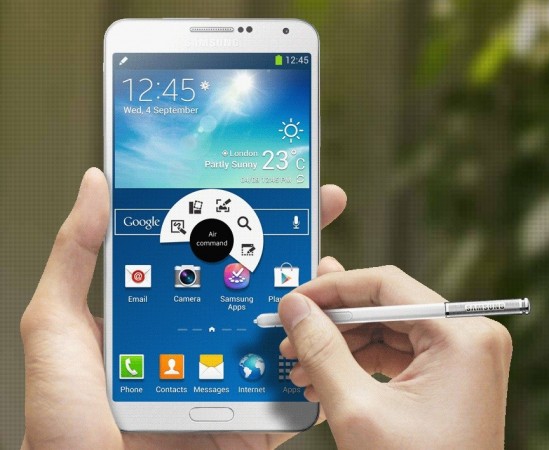 Samsung has not revealed the release date of Galaxy Note 4, but speculations have it that it might be unveiled in September, around the time Apple iPhone 6 is announced. Arrival of the device in the second half of the year is expected, as its predecessor, Galaxy Note 3, which has 5.7 inch Full HD Super AMOLED (1920 x 1080) display, which was also also launched around the same time in 2013.
Samsung Galaxy Note 4 and the recently unveiled Samsung Galaxy S5 reportedly have something in common. It is reported that the devices will have similar featrures like water and dust resistant and fingerprint sensor.
The South Korean electronics giant's flagship smartphone, Samsung Galaxy S5 was unveiled on 24 February and will hit the stores in over 150 countries across the globe on 11 April. It sports a 5.1-inch Super AMOLED display with full HD (1920x1080p) resolution having pixel density of 440 plus ppi (pixels per inch), powered by Octa-core Exynos Processor and run on Android v4.4.2 KitKat OS with new TouchWiz UI. It also features 16.0-megapixel camera with HDR.
On the other hand, Samsung Galaxy Note 4 is expected to have a 2K screen display, though the company earlier hinted that it is working on a 4K display. It is likely to be powered by a 64-bit processor. CNET had earlier reported that Samsung had claimed that it would join 64-bit processor club this year, when it develops OS to support it. The device is also expected to run on Android 4.5 Lollypop, a new OS to be released by Google this year, and have 20MP camera.
Giving a strong hint that Samsung Electronics would upgrade camera in Galaxy Note 4, South Korean media house, ETNews reported that the company had began developing the 20MP camera to be released in the second half of 2014.
It may be mentioned that Samsung Galaxy Note 3 has 13 MP camera, while Galaxy S5 has 16 MP camera.