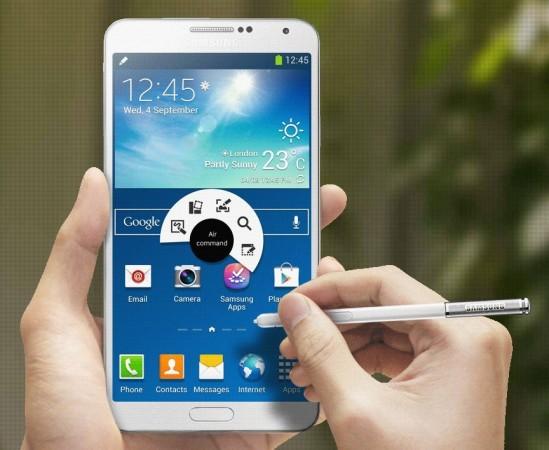 Samsung Electronics is yet to announce the release date of its upcoming flagship smartphone dubbed as Galaxy Note 4. But going by the reports, it is said to be planning an early launch, which could be taken as a marketing strategy with Apple releasing its first big screen iPhone 6 around the same time.
Traditionally, Samsung releases its Note devices a few weeks after Unpacked event, but a report by ETNews has claimed that the Galaxy Note 4 might be unveiled and released in the beginning of September, giving a hint that it could have been planned to avoid clash with 5.5-inch model of iPhone 6 which is expected to announced on 19 September.
Samsung Electronics is already a leader in phablet with its earlier Note series getting good feedback, which is reflected in good sales.
The upcoming next-generation phablet too may do well if one is to go by the pre-release hype, but the arrival of iPhone 6 5.5-inch model from arch-rival Apple may give a little uneasiness, as the hype around it has been great because of a possible complete sapphire crystal glass screen and the device being the company's first venture into big screen handset.
Whether early launch of Samsung Galaxy Note 4 is marketing strategy or not, the move may help the company in terms of sales. The flagship phablet can rule the market for a few weeks and make maximum business before Apple Inc. releases its first big screen iPhone.
Releasing a device before its competitor is an advantage, as prospective smartphone buyers go by the hype and grab the one that comes first. And gadget lovers, who have already bought a phablet, may not go for another one in a matter of a few weeks even if it has very good features.
However, it's a different case with loyal customers, which both Samsung and Apple may have in thousands.
Samsung Galaxy Note 4 Release Date
It is almost certain that the Galaxy Note 3 successor will hit the stores in September though Samsung has not officially announced the release date.
Traditionally, the South Korean electronics giant unveils its Note series, including Galaxy Note 3 at the annual IFA Expo before releasing a few weeks later. This year's IFA Expo in Berlin is from 5 to 10 September.
However, the ETNews report claimed that the Galaxy Note 4 might be unveiled and released in the beginning of September. Earlier reports suggested that the next-generation device might be unveiled on the eve of IFA Expo, on 3 September.
Samsung Galaxy Note 4 Specifications
Samsung is expected to release two models of Galaxy Note 4, one to be powered by Qualcomm Snapdragon 805 and the other by Exynos 5433 8 Core, according to AnTuTu benchmark listings.
It may sport a 5.7-inch super Amoled display with a 2560x1440 resolution (500+ppi) and may run on Android 4.4.3 KitKat OS or Android 4.5 Lollypop. It may also have S-Pen stylus powered by ultrasound technology with updated gestures and air command, and house 3GB LPDDR3 RAM.
The device may have a 16MP rear camera with ISOCELL technology, 4K video recording and a 2MP front camera with 1,080p video recording, according to Samsung4Note website. AnTuTu benchmark listings also hinted a 16MP rear and a 3.6MP front snapper.
However, a report by G4Games (via ETNews) suggested that the device may have a 12MP with an optical image stabilization (OIS).