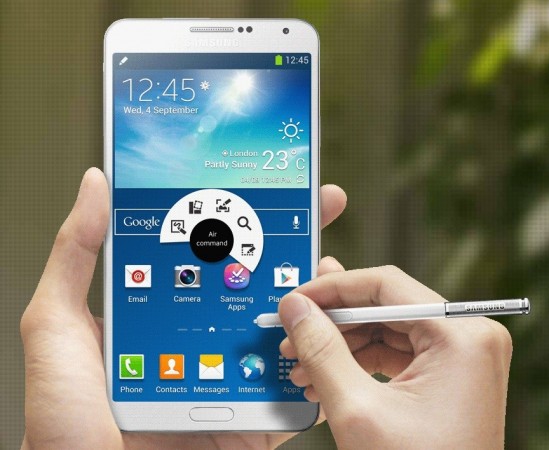 Amid speculations on the release date of Samsung Electronics' upcoming device dubbed as Galaxy Note 4, a report has emerged that the company might cut the price of the new device upon launch following stiff competition from its Chinese rivals.
Samsung's smartphone business has been affected by low-cost devices made by Chinese companies and increased competition in some European markets, besides an increase in the sales of Apple's iPhones.
The South Korean electronics giant recently published the earnings for the third quarter that ended in June, forecasting profit of about 7.2 trillion won ($7.1 billion), which is 24 percent lesser than the profit recorded in the corresponding period last year. One of the reasons for the decline in Samsung's profit is its competition from companies like Xiaomi and Huawei that have increased their market shares in China by selling their products at a very low price.
This new development has made many wonder whether Samsung will cut the price of Galaxy Note 4 to survive competition from its new rivals.
"How does Samsung compete against players that price at cost?" Adnaan Ahmad, an analyst for Berenberg Bank in London, said in a research note obtained by New York Times. "Investors should question where the growth is."
However, a Samsung executive said in a written statement to the NY Times that they would compete with other companies by "reinforcing our premium brand reputation, powerful product lineup and cutting-edge technology," hinting that the company might not resort to price cut to beat the rivals.
Samsung Galaxy Note 4 will have to compete with Apple's 5.5-inch model of iPhone 6 when it is unveiled in September this year. The former is expected to be launched in the first week of September while the latter may see the light of the day a few days later.
Android Geeks has reported, citing an insider that the device would be unveiled on 3 September and the invitation to the Unpacked event would be sent out in mid-August. According to The Korea Times, the device would be unveiled at the upcoming annual IFA trade fair in Berlin, Germany to be held between 5-10 September.
The device may sport a 5.7-inch super Amoled display with a 2560x1440 resolution (500+ppi) screen and powered by Quad Core Snapdragon 805 processor that clocks 2.5GHz, runs on either Android 4.4.3 KitKat OS or Android 4.5 Lollypop and houses a 3GB LPDDR3 RAM. It is also reported that it may feature curved OLED and flexible display.
According to AnTuTu benchmark listings, Samsung may release two versions of Galaxy Note 4, one to be powered by Qualcomm Snapdragon 805 that features Krait 450 (300MHz-2457MHz) CPU and Adreno 420 GPU, and the other with Exynos 5433 8 Core processor that has ARM Mali-T760 GPU. The device may come with either a 16MP or a 12MP camera with OIS.