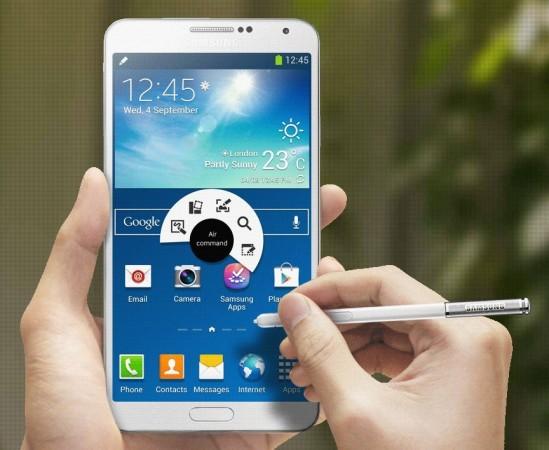 Speculations on the release date and features of Samsung Galaxy Note 4 have been doing the rounds for some time now, despite the South Korean electronics giant keeping mum on the device. Now, the big question that several gadget lovers have is whether it will disappoint fans like Galaxy S5 did.
Samsung Galaxy S5 reportedly shipped more than 10 million units in 25 days, compared to Galaxy S4's 10 million units in 27 days but gadget lovers were left disappointed after several noted features mentioned in pre-release reports were not seen in the device. There were no noticeable changes in the new phone from design to processor.
Just like Galaxy S5, Samsung's upcoming Note series gadget Galaxy Note 4 has also garnered plenty of attention, months before it is even announced. However, the Note 3 successor is expected to be a game changer if reports are anything to go by. It is expected to have lots of upgrades over its predecessor.
Galaxy Note 4 is expected to sport a 5.7-inch super Amoled display and have 3GB LPDDR3 RAM, which are spotted on Note 3 too. However, the screen of the new device will have a resolution of 2560x1440, giving a ppi of 500+ compared to its predecessor's 1080x1920 pixels (386 ppi pixel density). The device is expected to be powered by Quad Core Snapdragon 805 processor that clocks 2.5GHz, and rumor has it that it will have a flexible display.
According to Samsung4Note, the device will have a 16MP rear camera with ISOCELL technology, 4K video recording and a 2MP front cam with 1080p video recording and S-Pen stylus with updated gestures and air command. It is also reported that the device may run on the latest Android 4.4.3 KitKat OS or Android 4.5 Lollypop, which is expected to be released later this year.
Galaxy Note 4 Release Date
Samsung remains tight-lipped on the release of Galaxy Note 4 but several reports claim it will arrive in the second half of the year. Android Geeks reported, quoting an insider, that the device would be unveiled on 3 September this year, and the invitation to the Unpacked event would be sent out in mid-August. The Korea Times also reported that the device would be unveiled at the the upcoming annual IFA trade fair in Berlin, Germany this September.
The South Korean electronics giant is also expected to release the Galaxy Gear 3 smartwatch along with Galaxy Note 4. It sounds realistic as Galaxy Note 3 was unveiled along with Galaxy Gear at the IFA 2013 in 2013, before Gear 2 and smartband Gear Fit hit the stores.
"Samsung is working on the next generation of the Samsung Gear 2, and it will be sold in a bundle package with the upcoming Galaxy Note 4," a source told South Korean daily Korea Herald.